FORZA Pop-Up Target Goals [Pair]
FORZA Pop-Up Target Goals [Pair]

Improve The Accuracy Of Long Distance Shots With Pop-Up Target Goals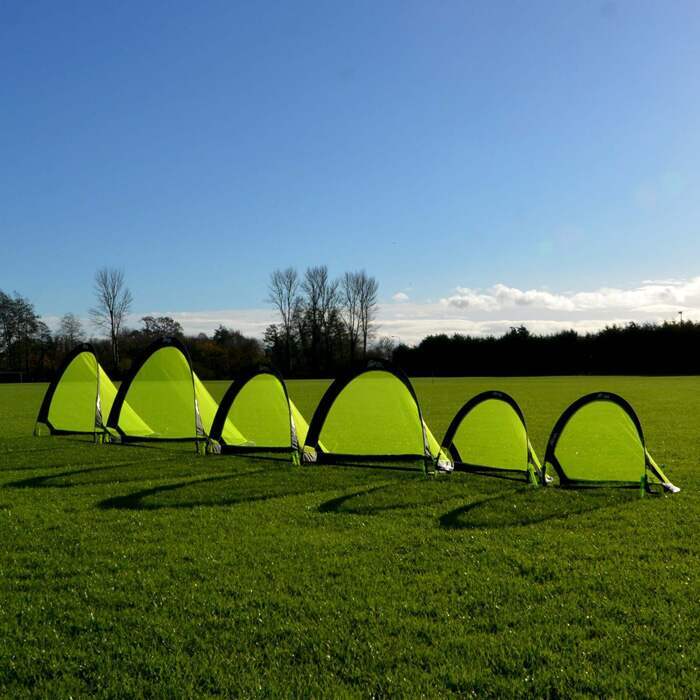 Size Choice
Available in three different sizes to suit your needs.
Easily Secured
Pegs allow the goal to be quickly and easily secured.
Great For Use In The Dark
The reflective strips and neon colour makes the goals great for use at night.
Description
Pop-Up Target Practice Goals – Different Sizes Ideal For Ball Sports
Improve numerous aspects of your game with these FORZA pop-up goals, all for an amazing price for two goals.
Available in three different sizes, these goals will have you training like the pro's in no time. They take just ten seconds to assemble and can be easily stored and transported thanks to their compact design. A carry bag is also included for your goals, allowing you to keep them tidy and protected, as well as easily transported.
Their strong build allows them to easily withstand the impact of any sports ball whilst also being able to easily withstand outdoor conditions. Our Pop-Up Target Practice Goals come with plastic pegs to securely hold them in place, meaning they can hold up against great force.
The goals allow you to perfect your shooting or passing and are also ideal for mini training games.
The edge of each goal has a reflective strip, ensuring high visibility. So even in dark conditions, your practice can go on.
Used by professional teams throughout the country, make sure you join them by purchasing a pair of our FORZA Pop-Up Target Goals. Suitable for a range of sports training, including; Soccer, Hockey, Lacrosse and more.
Net World Sport have a range of sports equipment to help you get the most out of your training sessions. Check out our Speed & Agility training ladder to get those quick feet, or our RapidFire Rebounder Net, to help perfect that all-important throw.
Specifications
Size
Available in three different sizes for an easier or harder challenge: 2.5ft, 4ft, or 6ft.
2.5ft dimensions: W 76cm x H 51cm x D 51cm
4ft dimensions: W 121cm x H 81cm x D 81cm
6ft dimensions: W 182cm x H 106cm x D 106cm
Misc
Come as a pair: you receive two goals for this incredible price.
Super strong design: Withstands the impact of hits from different sports balls & survives weather conditions outdoors.
Carry bag included: The pair of goals fit comfortably into this bag to provide easy transportation to and from training.
Exceptional visibility: Reflective strip around the edge of each goal allows them to be seen even in dark conditions
Easy dismantle: Simply twist the goal and it is ready to packed and stored.
Super secure: Each pop-up golf net come with 8inch plastic pegs to securely hold the net into the ground.
Delivery box sizes: 2.5ft (75cm, 52cm, 52cm), 4ft (122cm, 80cm, 80cm), 6ft (183cm, 105cm, 105cm)
Want to chat?
Contact us here and we'll get back to you as soon as possible.
Super fast shipping
2-4 day shipping available
Questions & answers
Ask fellow customers what they think!
Hide Q&As
Questions & Answers
1 question | 1 answer
can these goals withstand shots with lacrosse balls?
Hi Chris, thank you very much for the enquiry. There is no guarantee that they would work however, they have been tested with cricket balls and they work just fine, that's the closest example we have I'm afraid.
Many thanks,
Grant
You may also like
Stop That Ball™ [Lacrosse Edition] – Ball Stop Net & Post System
AU$289.99
Portable Multi-Sport Hitting Net [2.1m x 2.1m]
AU$229.99
Multi-Sport Ball Carry Cart [Tennis, Hockey, Cricket & Lacrosse]
AU$344.99