FORB Deluxe Golf Shag Bag
FORB Deluxe Golf Shag Bag
Deluxe Golf Practice Ball Bag – 85 Golf Ball Capacity
Aluminium Tube
The collection tube of this high-quality shag bag is made from premium aluminium. This hard-wearing metal will not bend during use, ensuring your golf ball collector will provide years of exceptional service.
85 Golf Ball Capacity
Designed to store up to 85 standard size golf balls, this golf ball practice bag features a heavy-duty nylon storage compartment. This large storage bag also features a high-quality nylon zip which provides quick access to your golf balls.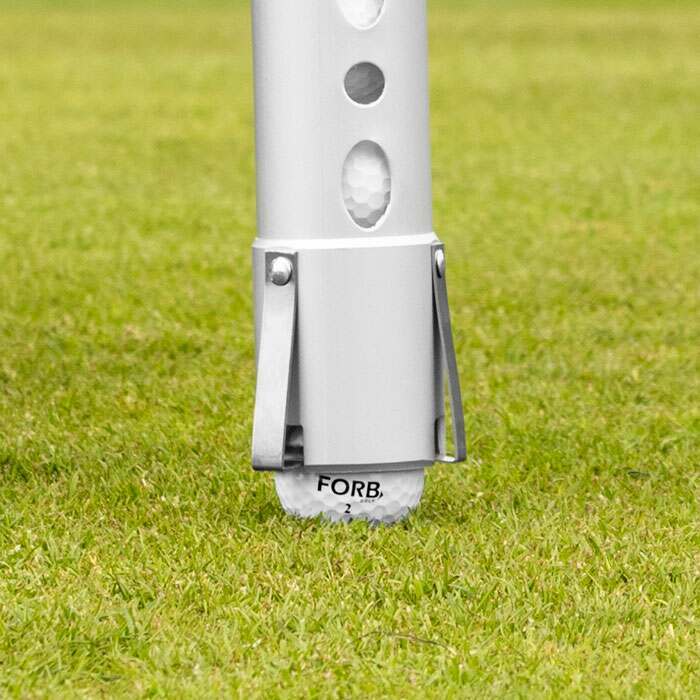 Automatic Locking System
You can rely on this premium golf practice ball bag to keep your balls in one place thanks to its innovative locking system. This high-quality automatic system ensures this bag works perfectly as both a golf ball collector and storage bag.
Description
Lightweight Golf Ball Collector Suitable For Back Gardens And Golf Courses
Made to store up to 85 golf balls in its nylon storage compartment, this deluxe shag bag will make the task of collecting your golf balls significantly quicker thanks to its user-friendly features. The shag bags' long aluminium tube utilises an automatic locking system. This useful device guarantees your balls can not fall out of this practice golf ball collector, regardless of how full it is. The golf ball collectors' long aluminium tube also allows you to collect your golf balls without the need to bend your back, greatly reducing the risk of unnecessary injuries.
Golf ball collector is 82cm tall and 16cm wide
Storage bag is made from heavy-duty nylon
5cm diameter collection tube made from lightweight aluminium
Zip fastener provides quick access to your golf balls
Practice ball collector holds up to 85 golf balls
Manufactured from high-quality nylon, the storage compartment of this golf shag bag will not rip or tear at full capacity, providing you with an exceptionally durable ball collector. To provide quick access to your golf balls, this golf ball collectors' storage compartment features a high-quality zipper. This fastening system not only allows you to quickly access your golf balls, but also makes the FORB Deluxe Shag Bag the perfect storage device.
Net World Sports stocks the extensive FORB golf range which includes, the FORB Golf Umbrella, FORB Putt Returner With Auto Return Mechanism and FORB Academy Golf Practice Mat.
Specifications
Dimensions
Height x Width: 82cm x 16cm | 32 inches x 6 inches
Collection Tube Diameter: 5cm | 2 inches
Material
Collection Tube: Aluminium
Storage Compartment: Nylon
Miscellaneous
Stores up to 85 golf balls
Zip fastener
Locking device stops golf balls falling out of this shag bag
Don't just take our word for it
Top quality shag bag at a low price. Delivery was quick and it collects golf balls with ease.
This shag bag is great for collecting golf balls after practicing at the course practice area. It's easy to use and holds plenty of balls. Stores the balls when not in use and makes it easy to transport them so I'd recommend to other golfers.
Want to chat?
Contact us here and we'll get back to you as soon as possible.
Super fast shipping
Express shipping available
Questions & answers
Ask fellow customers what they think!
Hide Q&As
Questions & Answers
No one has asked a question yet!
You may also like
FORB Launch Pad Golf Practice Mat [60cm x 30cm]
AU$59.99
FORZA Pop-Up Golf Chipping Nets [Long Distance Targets]
AU$44.99
FORB Golf Tees - 200 Jumbo Pack (Mixed Size)
AU$24.99
FORB F-3 Golf Balls – Ultra Precision Golf Balls
AU$19.99
FORB Home Golf Putting Mat
AU$139.99