FORB Driving Range Golf Balls [Premium 1 & 2 Piece]
FORB Driving Range Golf Balls [Premium 1 & 2 Piece]

Driving Range Balls – High Performance & Available In Bulk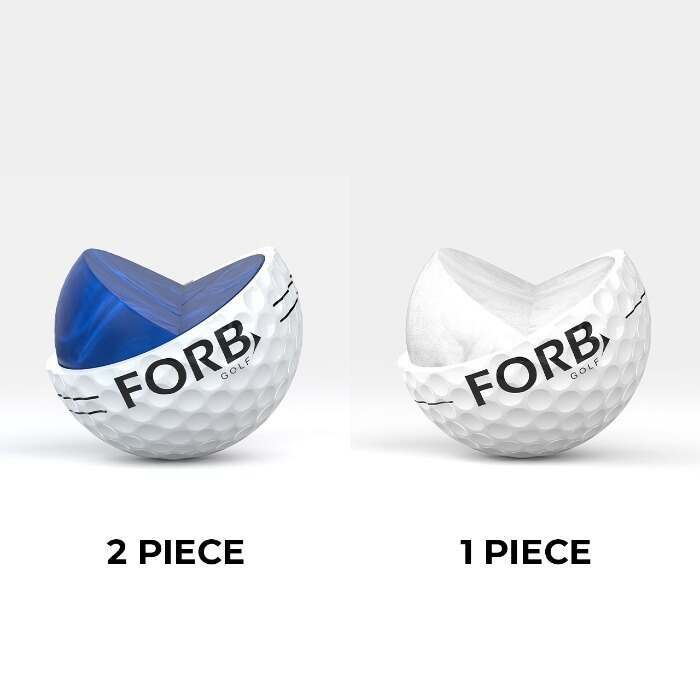 HIGH PERFORMANCE RANGE BALLS
Both styles of the FORB Practice Golf Balls deliver excellent quality, with the 2 piece combining a rubber core with a DuPont Surlyn exterior for a competition-like performance.
CONSISTENT/LONG-LASTING
Innovatively designed, these balls guarantee a consistent & long-lasting performance, making them the perfect choice for the range. The quality ensures ball replenishment is much less frequent.
BULK BUY GOLF BALLS
Ideal for golf clubs & driving ranges, these FORB Golf Balls are available in bulk buy packs of 100. Stocked at Net World Sports, they're also available for fast delivery.
Description
FORB 1 & 2 Piece Driving Range Golf Balls – Premium & Long-Lasting Performance Guaranteed
Net World Sports stocks both 1 & 2 Piece FORB Golf Driving Range Balls for quick delivery. Both types of practice golf balls are made from Premium Rubber and DuPont Surlyn Materials. Premium materials ensure the Golf Balls last longer (reducing cost and rebuying frequency) and offers golfers a sweeter hit of the ball (optimizing playing performance). Our Premium Golf Range Balls by FORB, gives golfers a realistic golfing experience which will make them come back time after time to the driving range. Sold in packs of 100 these are some of the best golf balls for sale on the market today.
FORB 1 Piece Golf Balls
Representing excellent value, the FORB 1 piece golf balls combine a high performance level with supreme durability. The innovative limited flight golf balls feature a double coated rubber construction.
FORB 2 Piece Golf Balls
Combining a premium rubber core with a DuPont Surlyn cover protective layer, these 2 piece golf balls are as close to a competition golf ball as you can get. The design ensures the longevity of the ball is maximised & the visual aesthetic is maintained – meaning less frequent ball replenishment for your range.
Golf Ball Key Information:
Ball
Material
Diameter
Weight
Compression (DAC)
No. Dimples
Cover Thickness
Ball Speed (MPH)
Carry (Yards)
Total Distance (Yards)
Features
1 Piece
100% Rubber

1.682in (42.67mm)

45.6g + 0.3g
73-78%
350
0.08in
163
228
241

Excellent durability = Value for money

Perfect for ranges under 275 yards

2 Piece
Rubber Core x DuPont Surlyn Cover

1.682in (42.67mm)

45.6g + 0.3g
75-80%
392
0.08in
171
250
271

Bestselling range ball

Closest feel to a competition ball

Compression moulded for elite level consitency

For ranges with no distance limit
Specifications
FORB Premium Driving Range Golf Ball Specifications:
One Piece Golf Ball:
Material: 100% Rubber
Diameter: 1.682in (42.67mm)
Weight: 45.6g + 0.3g (1.6oz + 0.1oz)
Compression (ADC): 73-78%
Number Of Dimples: 350
Cover Thickness: 0.08in (2mm)
Max Ball Speed: 163mph (262kph)
Carry: 228 yards
Total Distance: 241 yards
Two Piece Golf Ball:
Material: Rubber core & DuPont Surlyn Cover – high performance
Diameter: 1.682in (42.67mm)
Weight: 45.6g + 0.3g (1.6oz + 0.1oz)
Compression (ADC): 75-80%
Number Of Dimples: 392
Cover Thickness: 0.08in (2mm)
Max Ball Speed: 171mph (275kph)
Carry: 250 yards
Total Distance: 271 yards
Miscellaneous:
Balls are available in bulk buy packs of 100 golf balls
Stocked at Net World Sports ready for fast delivery
Don't just take our word for it
Very impressed with the 2 piece balls. They deliver on performance and longevity and for the price I don't think there are a better range ball out there.
We took a punt on these balls for our range facility at a time when we were struggling to source new balls. I'd heard of Forb golf mats but had never used the balls so we initially ordered 200 1 piece balls to test. Despite our initial reservations about buying balls we'd never used before we were actually hugely impressed. The quality is as good as the Srixon balls we've historically always used and they have lasted really well. Based on the initially tests we ordered another 5,000 balls and we'll be back for more.
Want to chat?
Contact us here and we'll get back to you as soon as possible.
Super fast shipping
Express shipping available
Questions & answers
Ask fellow customers what they think!
Hide Q&As
Questions & Answers
No one has asked a question yet!