FORZA American Football Kicking Tee
FORZA American Football Kicking Tee
Four-Pronged Weatherproof American Football Kicking Tee
Four-Pronged Place-Kicking Tee
Prop the ball up at any angle with help from the four plastic prongs on the American football tee to suit your kicking technique for improved accuracy and contact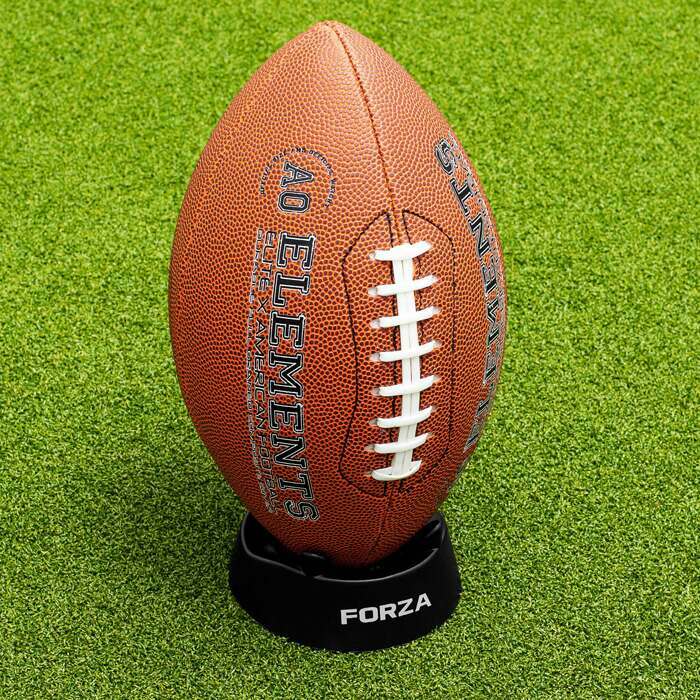 Weatherproof Moulded Plastic
The special teams tee is manufactured from a tough, durable plastic that is suitable for regular use during training and match days without any damage
Bold Black Tee
The black of this kicking tee contrasts against green grass pitches helping you to keep your eyes on the football and locate it after use.
Description
The Best Kicking Tee For High School American Football And Practice
Get more height and distance with this 5.1cm (2 inch) tall practice kicking tee. Capable of propping the ball up at any angle, this FORZA American football kick off and field goal tee allows you to position the ball to suit your technique to improve your kicking skills. Whether it's onside kick practice, field goal practice or kick off practice, this black kicking tee delivers ultimate performance for all needs. Made from heavy-duty black moulded plastic, this kick off tee contrasts well with grass allowing you to focus on the football and therefore improve your accuracy.
Four-pronged American Football Kicking Tee.
Manufactured from black ultra-heavy-duty moulded plastic.
Prongs will hold American footballs in a variety of positions.
For use in all weather conditions.
5.1cm (2 inch) high kicking tee for improved height and distance.
Perfect for use in high school American football games and practice.
Manufactured from durable black moulded plastic, this American football place kicking tee is suitable for use all season round. Whether it is raining, or the sun is shining, this field goal kicking tee performs at the highest standard due to its weatherproof properties. Featuring a four-pronged kicking tee holder, this place kick tee is capable of holding an American football in a multitude of different positions. The ability to have the ball positioned to the user's choice improves not only accuracy but also contact and power adding height and distance to any field goal or kick off.
This 5.1cm (2 inch) extra point tee is perfect for games under Friday night lights in high school but can also aid kickers in practice. This tee is a perfect starting point for any kicker looking to make the transition from high school American football to collegiate or to a professional level. PLEASE NOTE - This high kicking tee football unit is not suitable for college or professional games.
Net World Sports stocks a large range of American football training equipment as well as matchday equipment. Pair this conversion tee with other kicking tees, the FORZA American football kicking net and FORZA Kick Stick to take your game to the next level.
Specifications
Dimensions
Materials
Miscellaneous
Comes in Black
Four-pronged design holds balls in a variety of positions without interference
Also suitable for rugby
Perfect for High School games and practice
Want to chat?
Contact us here and we'll get back to you as soon as possible.
Super fast shipping
Express shipping available
Questions & answers
Ask fellow customers what they think!
Hide Q&As
Questions & Answers
No one has asked a question yet!
You may also like
FORZA 1.8m Spring Loaded Slalom Training Poles [34mm]
AU$124.99
3m x 1.8m FORZA Steel42 Combi Rugby & Soccer Goal Posts
AU$769.99
4.6m x 2.1m FORZA Steel42 Combi Rugby & Soccer Goal Posts
AU$999.99
FORZA American Football Goal Posts [Pair]
AU$20,499.99