TITAN Heavy-Duty Orange Line Marking Twine [200m]
TITAN Heavy-Duty Orange Line Marking Twine [200m]
TITAN HEAVY-DUTY TWINE STRING – ACCURATE PITCH MARKING LINES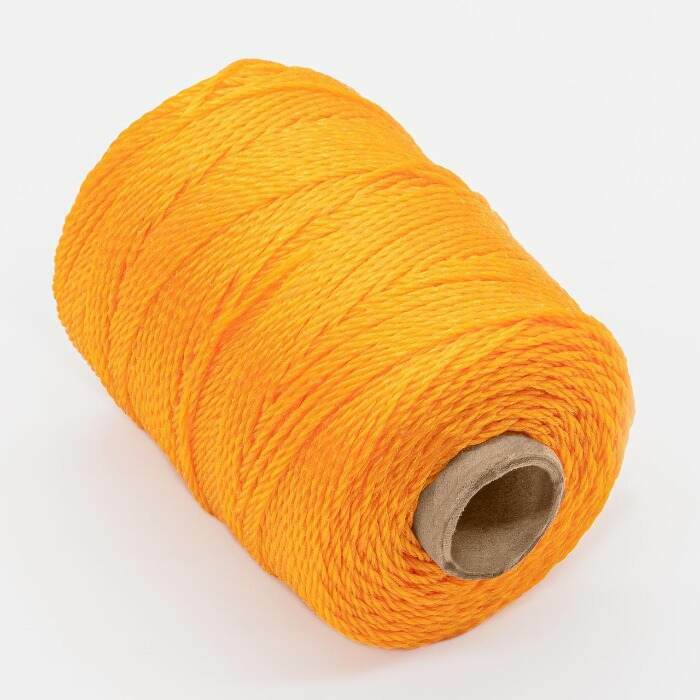 HEAVY DUTY TWINE THREAD
Manufactured from heavy-duty polyethylene, the line marking twine ensure reliable non-stretch tension when taut to retain shape.
STAND-OUT VISABILITY
Thanks to the vibrant orange design, the 1.6mm thick twine can be easily seen across the entire filed/pitch for clear pitch marking areas.
ACCURATE PITCH MARKINGS
The long-lasting pitch line marking equipment can be cut to a specific length for a precise marking zone to be used across various pitch sizes.
Description
VIBRANT ORANGE LINE MARKING TWINE – IDEAL FOR PRE-PAINTING PITCH LINES
The colourful twine is the perfect aid for sports groundsman marking their lines with full accuracy & visibility before fully painting the pitch/field. Manufactured from 1.6mm (0.06in) thick polyethylene, the heavy-duty spool of twine retains shape and tension when taut thanks to the non-stretch design when marking lines. The line marking twine is on a 200 (656ft) roll, which can be cut to mark specific line lengths & sizes whilst being attached on the roll for easy storage. For maximum visibility, the heavy-duty twine is orange in colour to provide easier visibility when sectioning certain pitch areas for a more precise line mark. Simply string out lines of twine over your desired area for an exact paint marking zone for easy use.
Essential for groundsman to outline pitch marking zones with accuracy before painting
The orange color provides high visibility when sectioning pitch zones for clear view
Orange twine is constructed from 1.6mm PE which is heavy-duty to retain shape
Line marking twine string is supplied on a roll to be cut off for specific lengths
The colored non-stretch twine can be easily stored away & transported with ease
Net World Sports offers a wide range of grounds equipment. For more twine or equipment please browse the Industrial or Sports Line Marking category above.
Specifications
HEAVY-DUTY ORANGE LINE MARKING TWINE SPECIFICATIONS
DIMENSIONS:
Twine Length: 200m | 656ft
Twine Thickness: 1.6mm | 0.06in
MATERIALS:
MISCELLANEOUS:
Supplied onto a roll
Color: Orange
Want to chat?
Contact us here and we'll get back to you as soon as possible.
Super fast shipping
Express shipping available
Questions & answers
Ask fellow customers what they think!
Hide Q&As
Questions & Answers
No one has asked a question yet!