Heavy Duty - Straight Back Soccer Net [All Sizes]
Heavy Duty - Straight Back Soccer Net [All Sizes]
Develop a scoring habit with this heavy duty soccer net!
Bad weather, no problem!
The beauty about this soccer net is that it can be used in any weather condition. Testing yourself in tough conditions will help you to reach that next level.
Versatile net
This net can be used on any soccer goal that doesn't have a net support bracket attached to it. Simply attach it to the frame and let the goals fly in!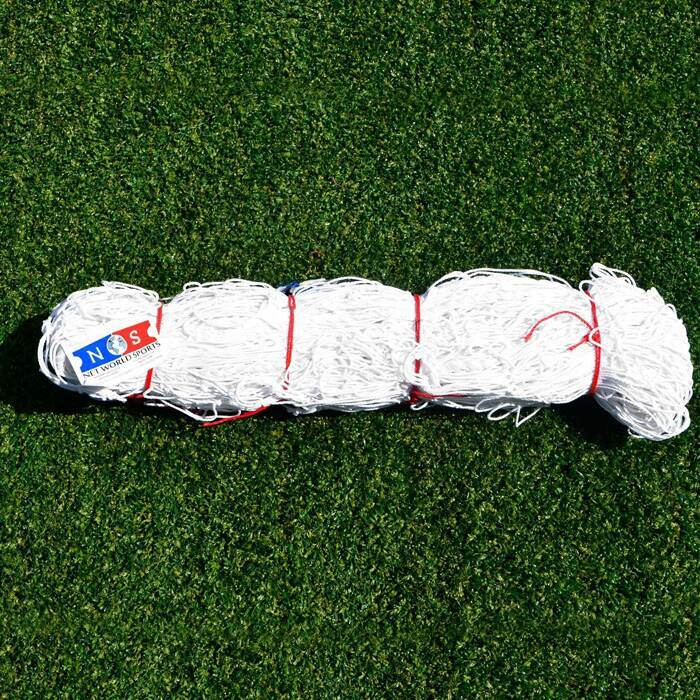 Super Strength
This soccer nets heavy duty twine design ensures strength and durability are maintained throughout its lifetime.
Description
This heavy duty soccer net will give your club the professional feel
You won't have to worry about your superstars damaging your soccer nets with their thunderbolt strikes anymore with this heavy duty soccer net. This net will transform their playing experience into an A-League spectacle as they blast strike after strike into the top corner safe in the knowledge that this awesome soccer net will refuse to buckle. Designed with heavy duty twine, this net will be sure to stay strong and durable throughout its lifetime.
Not just limited to competitive soccer action, this heavy duty net can be attached to any goal frame which doesn't have supporting brackets. We've all been there, during the friendly but super-intense clashes in the park, firing in goals from all over. Even though the goals are flying in, each goal is slightly tainted by the fact that you know that the ball must be retrieved, and if you're a super striker of the ball, that could be quite the retrieve mission. Well now, you can take this net with you to not only provide you with that satisfying ball-hitting-net ripple, but provide you with only one concern after scoring - how awesome your goal celebration is going to be.
You don't have to let the soccer action fall foul to the weather either. This heavy duty soccer net ensures that soccer remains the four-season sport it was always designed to be. Being able to play and test yourself in all different weather conditions will help ensure your path to the games elite will be a clear and efficient one. Available in a variety of different sizes, this heavy duty net will not let you down.
PLEASE NOTE: this net is sold singularly. If you require two nets, then please change quantities accordingly above.
Specifications
Dimensions
• Sizes available: 0.9m x 0.7m, 1.8m x 1.2m, 2.4m x 1.2m, 2.4m x 1.8m, 3m x 2m, 3.6m x 1.8m, 4.8m x 2.1m, 6.4m x 2.1m, 7.3m x 2.4m
Materials
• Supplied in a heavy duty 2.5mm soccer netting grade (3.5mm also available for 24ft x 8ft goals)
Miscellaneous
• Suitable for FORZA Locking goals and flat back goal posts (with no top depth)
• Comes in White Colour Only
• Quantity = 1 net (Pairs of nets available for larger sizes)
Don't just take our word for it
Seem to be of a good quality
Want to chat?
Contact us here and we'll get back to you as soon as possible.
Super fast shipping
2-4 day shipping available
Questions & answers
Ask fellow customers what they think!
Hide Q&As
Questions & Answers
1 question | 1 answer
How does this net attach? (I have a frame already from another brand on which the net attached via velcro straps)
Answer this question >
Hello, thank you very much for the enquiry. This net can attach in a number of different ways. Some examples of this could be Velcro ties, net clips, bungee ties & even cable/zip ties.
Many thanks,
Grant
Heavy Duty - Straight Back Soccer Net [All Sizes]
Thank you!
Your answer has been submitted.
We really appreciate you taking the time to help other customers, so please check your emails for a little thank you from us.
Heavy Duty - Straight Back Soccer Net [All Sizes]
What would you like to know?
Thank you!
Your question has been submitted. You'll receive an email when an answer has been received.
Can't hang around? Contact us and we'll get back to you right away.
You may also like
Heavy Duty - Soccer Goal Net [All Sizes]
AU$39.99
Ultra Heavy Duty - Soccer Goal Net [All Sizes]
AU$59.99
Stop That Ball™ - Ball Stop Net & Post System
AU$249.99
Striped/Two Colour - Soccer Goal Net [10 x Colour Options]
AU$79.99
Custom Soccer Goal Nets [Any Colour]
AU$129.99
Recently Viewed
120mm Soccer Ball Stop Netting [Standard Size]
AU$4.99
RapidFire Soccer Rebound Net
AU$229.99
Grass Multi-Sport Line Marking Pins
AU$24.99
Vermont Rol-Dri Tennis Court Roller Squeegee [PU Foam]
AU$157.99
Regulation Volleyball Net (Cord Headline)
AU$54.99