Paceman 245 Edge Cricket Bowling Machine [New Pro 2024 Model]
Paceman 245 Edge Cricket Bowling Machine [New Pro 2024 Model]

Paceman 245 Cricket Bowling Machine – Improve Your Batting Skills
Pro Training Equipment
The high-quality Paceman 245 Bowling Machine is an excellent option for all batters to improve their technique both at home or at the training field.
12-Ball Auto Feeder
Ideal for professional training practice, the high-quality bowling machines feature a 12-ball automatic feeder allowing you to spend more time practicing.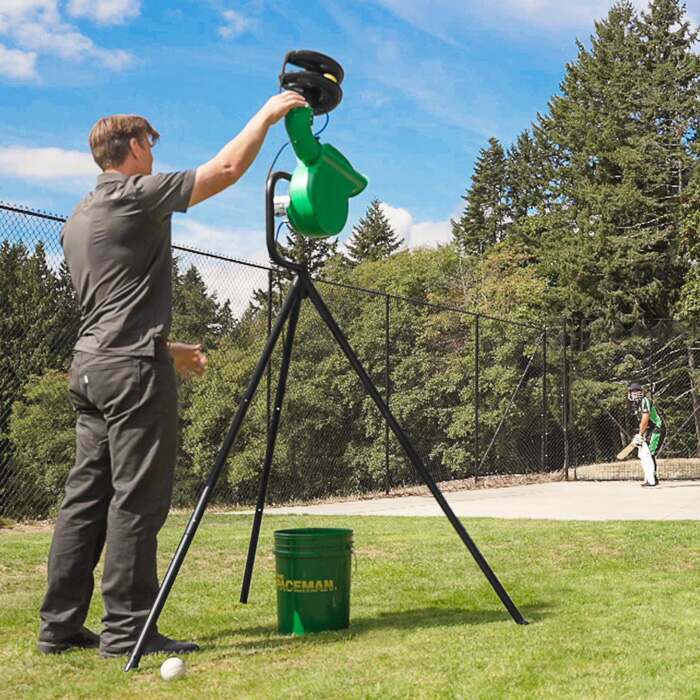 High Speeds
Create the ultimate batting training session using these pro bowling machines which can reach speeds of up to 62mph (100kph) with multiple spin options.
Description
Paceman 245 Cricket Bowling Machine – Elite Machine For Top Players
The number 1 bowling machine in the premium Paceman range, the 245 Cricket Bowling Machine will transform your net sessions. Innovatively designed, the impressive bowling machine possesses the same abilities as its Paceman counterparts (speed, swing & adjustable length), with the added capabilities of delivering inswing, outswing, off-spin & leg-spin deliveries. Making sure players are well-prepared for all styles of bowling, this bowling machine can deliver balls at a variety of speeds up to 62mph – ideal practice for a matchday. The maintenance-free concave moulded TPE wheel has been engineered with precision to ensure a consistent delivery is always achieved. Complete with a 12x ball adjustable auto feeder which supply the balls at intervals between 6-10 seconds. The Paceman features full directional adjustment which prevents you from repositioning the whole tripod. As standard the 245 pitching machine comes with the machine & cable to connect to an SLA battery (not included). Optional pack of 12x FORTRESS balls are also available. The 245 Cricket Bowling Machine allows players to create the ultimate batting practice set-up.
Paceman 245 Cricket Bowling Machine – Professional Quality For Cricket Clubs
Features adjustable speed, inswing, outswing, length, off-spin & leg-spin functionalities
Cricket bowling machine will deliver balls at speeds of up to 62mph (100kph)
Ideal for solo practice, machine comes with a 12-ball auto feeder included
Optional extras include a 12 pack of high-quality FORTRESS Balls
Paceman is super-easy to assemble, store & take down & features a stable tripod design
PLEASE NOTE: We strongly recommend only using bowling machine balls when using this Paceman. Other types of ball may cause damage to the mechanism & affect overall performance.
Specifications
Paceman 245 Cricket Bowling Machine Specifications
Features:
Allows players & coaches to adjust delivery length, swing, speed & spin
Variable bowling pace speeds up to 62mph (100kph) with a FORTRESS Regular Ball
Maintenance free Concave moulded TPE wheel
Durable & lightweight machine with a heavy-duty DC motor
Power Source:
Powered by 18AH battery (NOT INCLUDED) – SLA battery cable is included
Miscellaneous:
12-ball capacity auto-feeder included as standard
Optional 12 Pack of Regular FORTRESS Balls available
We recommend using Bowling Machine Balls only in order to protect the bowling machine mechanism
Want to chat?
Contact us here and we'll get back to you as soon as possible.
Super fast shipping
Express shipping available
Questions & answers
Ask fellow customers what they think!
Hide Q&As
Questions & Answers
1 question | 1 answer
Can regular leather cricket balls also be used in this machine?
Hi Rishi, Thank you for your question. regular balls cannot be used with this machine as both the weight and size of them will damage the motor in the machine causing it to eventually fail. Only Paceman balls can be used with these machine. If you have any further questions please email sales@
networldsports.com
Many thanks, Tom
You may also like
Paceman 176 XT Cricket Bowling Machine [New 2024 Original Model]
AU$539.99