FORB Rubber Golf Mat Base [1.56m x 1.56m]
FORB Rubber Golf Mat Base [1.56m x 1.56m]
Heavy Duty Rubber Golf Mat Base For 1.5m x 1.5m Golf Hitting Mats
Innovative Drain System
Not content with just providing strength & stability for golf players, this rubber construction also features excellent drainage thanks to the 100 small holes on its base to help avoid flooding during wet conditions.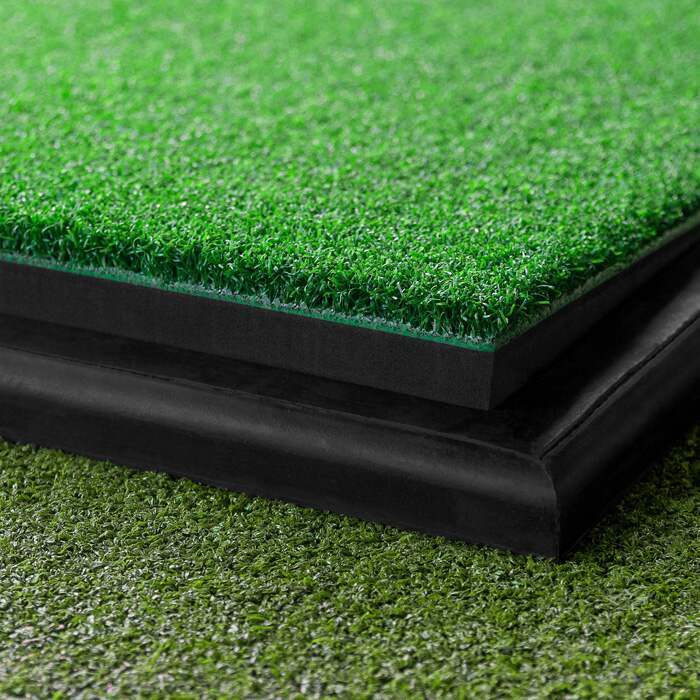 Ultimate Protection
This impressive rubber golf mat base is perfectly equipped to support any 1.5m x 1.5m golf hitting mat. The base protects against weathering & natural wear & tear, giving your golf mat greater longevity.
Premier Durability
This mat for golf hitting tees has been manufactured using premium-grade rubber which helps give it exceptional durability on any surface. It's anti-skid abilities allow players to commit 100% to their shots.
Description
Professional Anti-Skid Rubber Base For 1.5m x 1.5m Golf Hitting Mats
With this high-quality FORB Rubber Base underneath your golf mat you can fully commit to every shot safe in the knowledge that your mat will remain firmly in place. The ultra heavy-duty base provides golfers with exceptional grip on all surfaces, in all weather conditions, meaning your practice will never fall foul to poor weather. The innovatively designed base features 100 small holes which allow water to easily drain away without causing damage to your driving range mat.
1.56m x 1.56m Rubber Base for 1.5m x 1.5m Driving Range Golf Mats
Anti-skid base gives golfers exceptional stability during their swing
Heavy-duty rubber allows base to be used in all conditions
Helps protect your golf mats
Features 100 water drainage holes
Manufactured using premium-grade rubber, durability is an absolute guarantee with this FORB Golf Mat Base. Perfectly designed to provide strong and stable support to 1.5m x 1.5m golf mats, this rubber base will also protect your golf hitting mat, giving them greater longevity. The small holes in the base ensure that even in the wettest of conditions, the mat won't get flooded, allowing players to continue with their practice.
Why not create the ultimate golf practice arena by adding our professional FORB Driving Range Golf Practice Mat to your rubber base. For more information, see essentials above!
Specifications
FORB Rubber Golf Mat Base Specifications
Material:
Heavy-duty, anti-skid rubber to give golfers exceptional stability under foot
Supremely durable
Dimensions:
Size: 1.56m x 1.56m | 5.1ft x 5.1ft – will fit any 1.5m x 1.5m golf mat perfectly
Miscellaneous:
Gives your golf hitting mats excellent protection therefore increasing their longevity
Can be used on any surface, indoors & outdoors
Designed with 100 small holes to allow for easy drainage to avoid flooding
Why not add our FORB Driving Range Golf Practice Mat? See Essentials Above!
Don't just take our word for it
stop the mat slipping on top my turf and added finishing look to the mat :)
Want to chat?
Contact us here and we'll get back to you as soon as possible.
Super fast shipping
2-4 day shipping available
Questions & answers
Ask fellow customers what they think!
Hide Q&As
Questions & Answers
1 question | 1 answer
HOW DEEP IS THE GOLF MAT BASE?
Answer this question >
Hello Edward, Thank you for your message. The base has an approximate depth of 0.8inches and can accommodate any mat which has the size of 59 inches x 59 inches. Many thanks, Tom
FORB Rubber Golf Mat Base [1.56m x 1.56m]
Thank you!
Your answer has been submitted.
We really appreciate you taking the time to help other customers, so please check your emails for a little thank you from us.
FORB Rubber Golf Mat Base [1.56m x 1.56m]
What would you like to know?
Thank you!
Your question has been submitted. You'll receive an email when an answer has been received.
Can't hang around? Contact us and we'll get back to you right away.
You may also like
FORB Pro Driving Range Golf Practice Mat
AU$999.99
Socketed Golf Cage & Net - Professional Range
AU$899.99
Replacement 10 x 10 x 10 Golf Cage Net
AU$374.99
Freestanding Golf Cage & Net [Home Driving Range]
AU$724.99
Recently Viewed
FORZA Dominate Match Rugby Ball – International Match Ball
AU$39.99
Replacement Magnetic Coaching Board Markers
AU$14.99
FORZA Speed & Agility Training Ladder
AU$14.99
2 Bay Freestanding Golf Cage Net - 42mm - Standard
AU$874.99
Indoor Cricket Net Pouch
AU$229.99