Striped/Two Colour - Straight Back Soccer Net
Striped/Two Colour - Straight Back Soccer Net
Coloured & Striped Straight Back Goal Net To Take Your Matchday Experience Up A Notch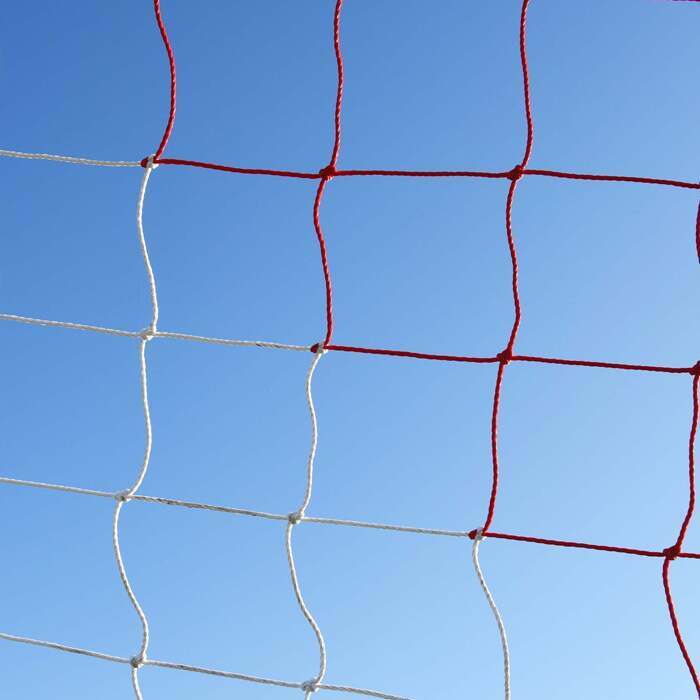 Square Mesh Knotting
120mm square mesh netting provides you with the ultimate ball security. Specially designed knotting gives professional and traditional goal net feel.
Full Size Regulation
Designed to fit full size 24ft x 8ft (7.3m x 2.4m) straight back adult football goals and meet all governing body regulations.
Strong Material
Ultra-durable 3mm thick polypropylene goal netting that is built to withstand the harshest of weather and strongest of shots.
Description
Customise Your Match Day Experience With This Striped Soccer Net
This full size coloured net will be as bold and striking as your most flamboyant player! Manufactured from ultra-durable 3mm thick twine, this net will bring a touch a colour to match days.
The 24ft x 8ft net will have your rivals envious of the quality on show at your ground. Hang the net with pride from any goal frames that don't support existing net brackets.
The net is 100% weatherproof allowing for year round use on match days. Whatever the weather this net will hang solidly allowing for your team to rise above the competition week in week out.
PLEASE NOTE this net is sold singularly. If you require two nets then please change quantities accordingly above.
Specifications
Dimensions
• Striped net for full size 24ft x 8ft goals
Materials
• Manufactured from extra heavy duty 3mm soccer netting
Miscellaneous
• Suitable for flat back goal posts (with no top depth)
• 120mm mesh square with overlock edge
• Blue & White OR Red & White colours available
• Quantity = 1 single net (also available in pairs)
Don't just take our word for it
Grandson very happy with the net.
Want to chat?
Contact us here and we'll get back to you as soon as possible.
Super fast shipping
2-4 day shipping available
Questions & answers
Ask fellow customers what they think!
Hide Q&As
Questions & Answers
No one has asked a question yet! Be the first to ask one.
Striped/Two Colour - Straight Back Soccer Net
Thank you!
Your answer has been submitted.
We really appreciate you taking the time to help other customers, so please check your emails for a little thank you from us.
Striped/Two Colour - Straight Back Soccer Net
What would you like to know?
Thank you!
Your question has been submitted. You'll receive an email when an answer has been received.
Can't hang around? Contact us and we'll get back to you right away.
You may also like
Heavy Duty - Soccer Goal Net [All Sizes]
AU$39.99
Ultra Heavy Duty - Soccer Goal Net [All Sizes]
AU$59.99
Stop That Ball™ - Ball Stop Net & Post System
AU$249.99
Striped/Two Colour - Soccer Goal Net [10 x Colour Options]
AU$79.99
Custom Soccer Goal Nets [Any Colour]
AU$129.99
Recently Viewed
Replacement Regulation Size Lacrosse Goal Nets
AU$149.99
Premium-Grade Multi-Sport Netting [Made To Any Size]
AU$3.99
FORZA Training Soccer Ball
AU$19.99
Superdome Cone Hurdle Set
AU$74.99
Rugby Corner Flags Set [Corner Poles, Protector Pads & Foam Flags]
AU$349.99