Ultra Heavy Duty - Soccer Goal Net [All Sizes]
Ultra Heavy Duty - Soccer Goal Net [All Sizes]
Heavy-Duty Soccer Goal Net For Unparalleled Quality And Longevity
Choose Lasting Quality!
Our heavy-duty netting is made to withstand countless impact shots to the back of the net, providing you with fun for years to come!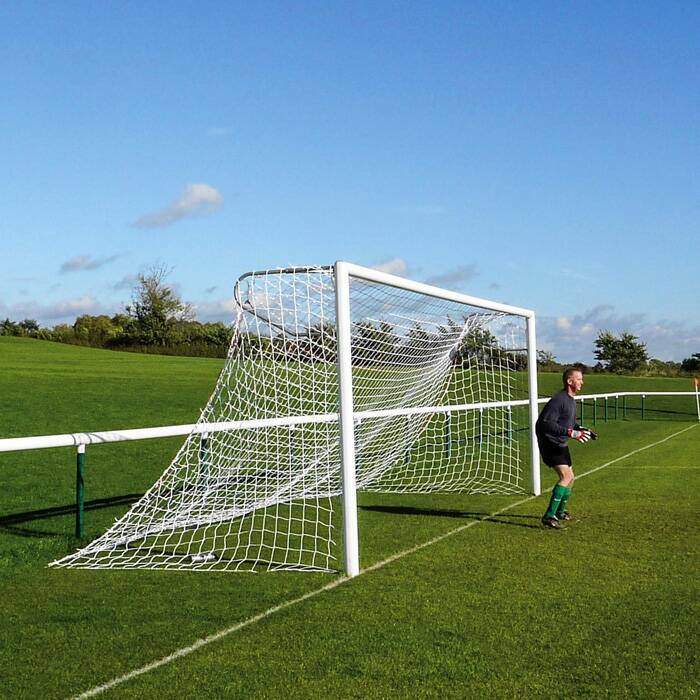 Compatible With A Range Of Goals
This net is suitable with a wide range of soccer goals which have the top runback and net support brackets attached.
It's A Game Changer!
We have a wide variety of sizes available, chose between a single goal or pair from the drop down menu.
Description
The Best Soccer Goal Net For Ultra-Durable Performance
The highest quality goal net produced yet. This ultra-heavy-duty polypropylene twine soccer net adds a world class finish to any pitch. Designed to be versatile, this regulation full size net is suitable for a variety of goals that features a top run back or net supports. Available in a number of different sizes, this premium professional soccer goal net is sure to meet your every need and requirement.
Extra durable polypropylene twine soccer netting to survive the worst of conditions
Available with traditional white twine
Made for goals sized from 3m x 2m to 7.3m x 2.4m (24ft x 8ft) goals
Available in 3.5mm twine (4.5mm and 4.5mm braided also available in 7.3m x 2.4m goals)
Professional soccer goal nets that are available as a single or in a pair
This soccer goal netting is available in a traditional white and adds a classy finish to any field. Whether it is a high stakes professional soccer game or just a kick about with friends, this ultra-heavy-duty goal net delivers ultimate performance all year round. The stylish touch that this high-quality soccer net provides will not only make your field look and feel more professional but will also ensure you and your team can shoot with confidence.
This traditional strong soccer goal net is built to offer unrivalled longevity. Designed using strong and thick polypropylene, this highly-durable soccer goal net will withstand the worst of weather conditions. These soccer nets can be left attached to any soccer goal post all year round without a compromise in quality, durability or performance. Available in a number of different sizes, this ultra-durable soccer goal net can be used with a variety of different goal post sizes.
Specifications
Dimensions
Sizes available: 3m x 2m, 3.7m x 1.7m, 3.7m x 1.8m, 4.8m x 1.2m, 4.8m x 1.8m, 4.8m x 2.1m, 6.4m x 2.1m, 7.3m x 2.4m
Materials
Manufactured from extra heavy duty 3.5mm polypropylene soccer netting (4.5mm and 4.5mm braided netting available for 7.3m x 2.4m goals)
Miscellaneous
Suitable for FORZA Match goals
Suitable for goal posts with top depth and a top runback
Net colour = White
Don't just take our word for it
Worth the extra few pounds
Good nets, repeat customer
Great product quality and speedy delivery
It's perfect for what I needed and material is exceptional.
Want to chat?
Contact us here and we'll get back to you as soon as possible.
Super fast shipping
2-4 day shipping available
Questions & answers
Ask fellow customers what they think!
Hide Q&As
Questions & Answers
6 questions | 6 answers
Does the frame come with net
Hi, thank you very much for the enquiry. The current listing you are on, is just for the net & nothing else. We do have a range of complete goals with the frame & the net, for more information please email us on sales@
networldsports.com
.
Regards,
Grant
What kind of material is the frame made out of?
Hi Mike, Thank you for your question. This listing is for the net only, no framework is included, we do have an extensive range of goals available which can be seen from the drop down menu at the top of the page. If you have any further questions please email sales@
networldsports.com
Many thanks, Tom
Hi, How easy is it to take it apart and assemble it? Is there a delivery fee to Melbourne ?
Hi Andrew, thanks for getting in touch. Just to clarify, the listing you are currently looking at is for the nets only. You can visit our range of goal posts (complete package) by visiting this link
https://www.networldsports.com.au/soccer/soccer-goals.html
. Shipping costs can be calculated when adding the items you wish to purchase into your basket and proceeding to the checkout stage. If you have any further questions or would like some pricing then please do not hesitate to contact us. Many thanks, Adam
Hello, just wondering, I selected the size 24 x 8 for a football goal net and I was wondering if those measurements were in feet? Thanks
Hello Jack, Thank you for your question. I can confirm that all measurements you see from the drop down menu are indeed in ft. If you have any further questions or would like any customised netting please email sales@
networldsports.com
Many thanks, Tom
What is the measurement of the mesh openings of these nets?
Hello Raymond, Thank you for your question. The size of the mesh openings are 4.7 inches (120 mm). This is the regulation size across the sport. If you do have any further questions please do let me know. Many thanks, Tom
what material are these nets made of?
Hello, thank you very much for the enquiry. These nets are made of HDPE, this is a high density polyethylene. They are UV stabilized so they will not rot if they are left out in the sun.
Many thanks,
Grant
Recently Viewed
Fortress Short Toss Baseball Screen [Nimitz Edition]
AU$1,064.99
Steel & Plastic Net Pegs
AU$10.99
Striped/Two Colour - Straight Back Soccer Net
AU$99.99
Soccer Tactics/Coaching Board Carry Bags
AU$14.99
METIS Yoga Ball with Pump [65cm]
AU$34.99