Professional Concertina Golf Cage
Professional Concertina Golf Cage
Foldable Golf Cage For A Professional Practice Environment
Heavy Duty Golf Netting
Made from braided 2.3mm HDPP twine and woven into a high tenacity 20mm knotless mesh to create the perfect practise environment.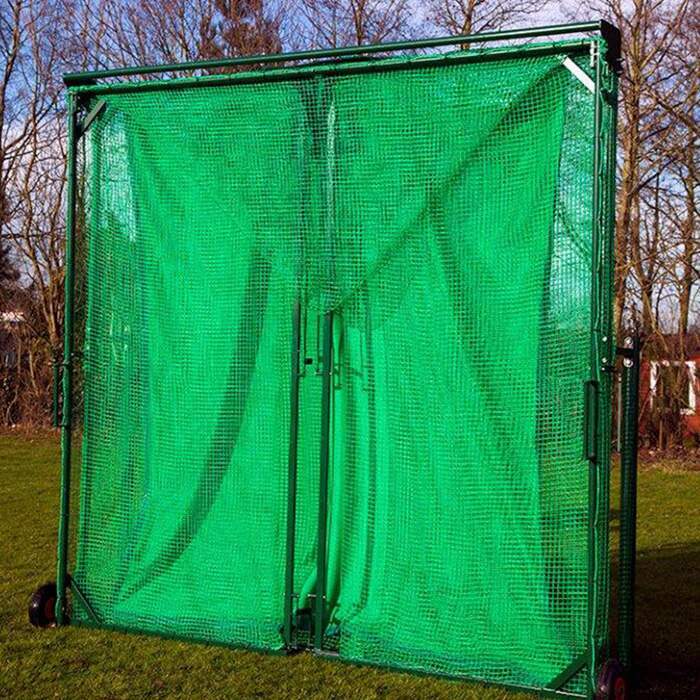 Concertina Fold-Away Nets
Tidies away from 3m to 71cm deep – making this golf cage perfect for sports clubs and driving ranges where space is limited.
Archery Grade Baffle Net
Ultra-heavy duty baffle net made from the same grade that stops archery bows, reduces ball impact to prevent it rebounding.
Description
The Ultimate Space Saving Golf Cage And Net
Being able to practice your swing in a professional environment is essential to the fast and easy development of your overall golf game. Manufactured from heavy-duty 2.3mm braided HDPP with 20mm mesh squares, this golf practice net offers a durable and professional piece of training equipment to help aid driving and short game skills. Measuring 3m x 3m x 3m (10ft x 10ft x 10ft), this golfing cage is manufactured from galvanised steel which can be finished with a powder coat to provide additional strength and stability.
Frame manufactured from galvanised steel for high durability and strength
Net manufactured from 2.3mm braided HDPP with 20mm mesh squares
Features concertina folding design for easy storage
Golfing net and cage measures 3m x 3m x 3m (10ft x 10ft x 10ft) [L x W x H]
Can be folded down to just 3m x 3m x 0.7m (10ft x 10ft x 2ft)
Available with powder coated finish for extra durability and strength
Manufactured from ultra-durable, high-quality materials, this golf training cage features a galvanised steel frame and 2.3mm thick HDPP netting to ensure professional practice sessions. These materials are further supported by an archery grade baffle netting that can safely and effectively stop high-velocity golf balls. Available with the standard galvanised steel frame or with a powder coat finished frame, this golf net offers ultimate performance year after year, no matter the weather.
Measuring 3m x 3m x 3m (10ft x 10ft x 10ft) in size, this golfing net is perfect for golf clubs, driving ranges and the backyard. With a concertina foldable design, this golfing cage can be easily collapsed to just 3m x 3m x 0.7m (10ft x 10ft x 2ft). Featuring socketed rear posts and wheeled front posts, this practice golf cage can be quickly folded away for easy storage after use.
PLEASE NOTE - The estimated lead time on this golfing net is 3-4 as this product is made to order.
Specifications
Materials
Cage: Hot dipped galvanised steel with optional powder coated finish
Folding Section: 40mm x 20mm x 1.5mm (box section)
Rigid Section: 40mm x 40mm x 3mm (circular hollow section)
Main Net: 2.3mm thick OD braided HDPP woven twine with a high tenacity 20mm knotless mesh size
Impact Net: Ultra-heavy-duty archery specification net 3m x 3m
Dimensions
Fully Assembled: 3m wide x 3m high x 3m (10ft x 10ft x10ft) deep
Folded Away: 3m wide x 3m high x 0.7m (10ft x 10ft x 2ft) deep including retaining posts
Net Folded Away: 34cm (1ft) from back upright to front of handle
Miscellaneous
Puncture proof wheels
Product is made to order & will take between 3-5 weeks to deliver - if you require a faster delivery please contact our Sales Team
Don't just take our word for it
I'd been looking at getting a hitting age for my garden for a while but was concerned about the space it would take up when not in use. This was the perfect solution as it folds away when not in use. When it is in use it is stirdy and robust, ensuring shots are contained. Highly recommend for other looking for a fold away golf cage.
Want to chat?
Contact us here and we'll get back to you as soon as possible.
Super fast shipping
Express shipping available
Questions & answers
Ask fellow customers what they think!
Hide Q&As
Questions & Answers
No one has asked a question yet!
You may also like
FORB Pro Driving Range Golf Practice Mat
AU$1,264.99
FORB Portable Garden Golf Net - 7ft x 7ft
AU$129.99
Socketed Professional Golf Cage and Net
AU$1,139.99
Freestanding Golf Cage & Net [Home Driving Range]
AU$824.99