8 x 4 Replacement Football Goal Nets
8 x 4 Replacement Football Goal Nets
HOW TO CHOOSE THE RIGHT 8 X 4 NET FOR YOUR FOOTBALL GOAL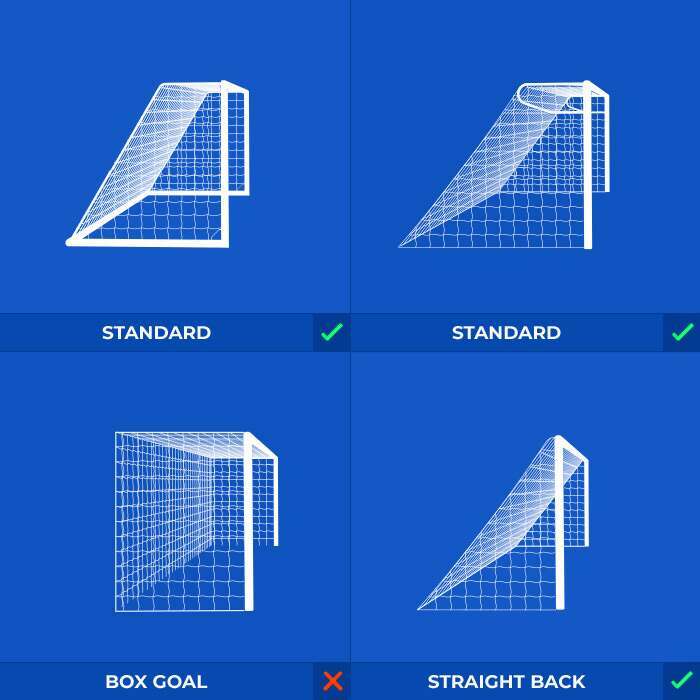 CHOOSE YOUR SHAPE & SIZE
Select the correct net style (standard or straight back) to fit your existing goal frame shape & then the correct size of net. Please measure frame before purchase.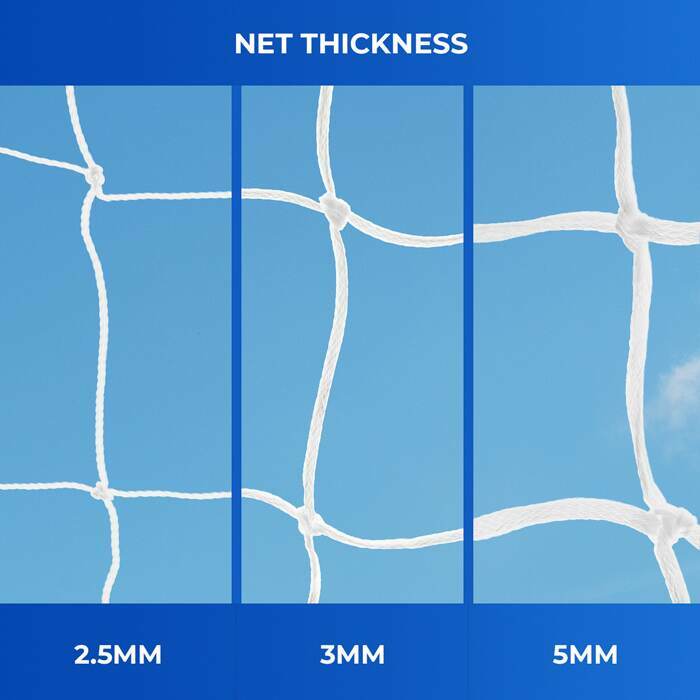 CHOOSE THICKNESS
Next, simply choose the net thickness you desire from the options presented to you (this depends on shape & size). Thicker twine = stronger net.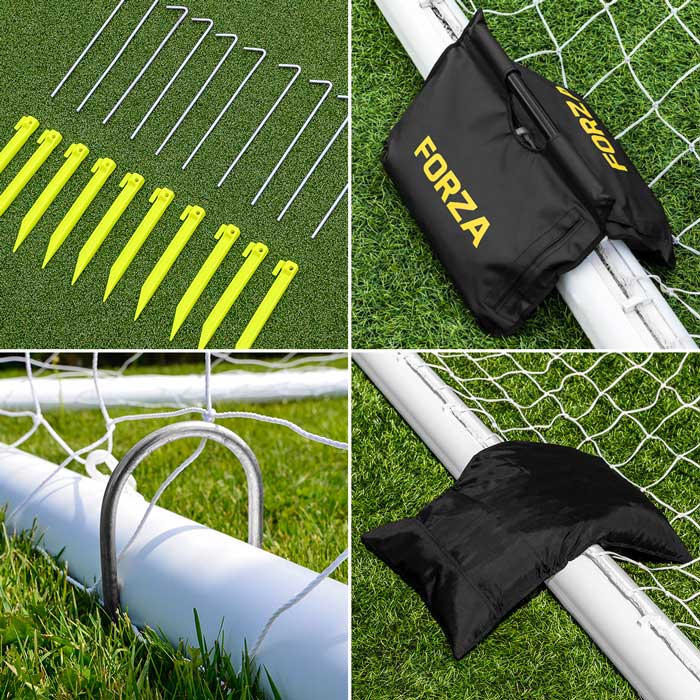 CHOOSE YOUR ACCESSORIES
For additional netting accessories, such as soccer net clips, elastic bungee net ties and more, please follow the link here.
Description
REPLACEMENT NET FOR 8 X 4 SOCCER GOALS – SINGLE OR PAIR OF NETS
We stock various 8ft x 4ft (2.44m x 1.22m) goal net models to ensure they fit your existing goal frame correctly. Our net range is designed to cater for both socketed inground and freestanding portable type goalposts. For 8ft x 4ft goal nets, we offer 2 different net shapes (standard & straight back). This is to ensure the nets correctly fit the shape of your existing goal frame. We offer various top & bottom depth sizes (refer to sizing table below).
The 8x4 soccer nets are available in 2 different twine thicknesses (2.5mm twisted & 3mm braided) depending on net size and shape. Braided is stronger than twisted twines. Thicker net twines are stronger and last longer. All our goals nets are strong, easy to hang, rot proof and weather resistant. They have machined stitched border rope edges to prevent tearing and are UV treated for long life protection against sunlight.
Net World Sports is one of the largest producers and stockists of goal nets in the world. We have goal nets to suit every user ability and playing environment (gardens, football clubs, schools, colleges, universities, tournaments, leagues). We are experts in netting with top clients including Manchester United, FA Wales and various Canadian Premier League / MLS soccer clubs.
REPLACEMENT GOAL NETS ONLY - GOAL FRAMES ARE NOT INCLUDED WITH THIS PRODUCT. FOR GOALS - PLEASE CLICK HERE.
8 X 4 REPLACEMENT GOAL NET KEY INFORMATION
| | | | | |
| --- | --- | --- | --- | --- |
| Style | Thickness | Mesh | Material | Top Depth x Bottom Depth |
| Straight Back | 2.5mm (Twisted) | 120mm (Knotted) | HDPE | 0ft x 4ft | 0cm x 122cm |
| Standard | 2.5mm (Twisted) | 120mm (Knotted) | HDPE | 1ft x 4ft | 30cm x 122cm |
| Standard | 3mm (Braided) | 100mm (Knotted) | HDPE | 1ft 4in x 4ft | 41cm x 122cm |
Net World Sports offers a wide range of Football equipment. For FORZA Footballs, FORZA Speed Training Hurdles and more, please see the essentials above.
Specifications
8 x 4 Replacement Goal Nets Specifications
DIMENSIONS & SHAPE:
Replacement net to fit 8ft wide x 4ft high (2.44m x 1.22m) football goals
For top and bottom depth sizes (see table above)
Standard & straight back shaped nets available to fit socketed (permanent) and free standing (portable) goal frames
MATERIALS:
Net twine manufactured from 2.5mm twisted or 3mm braided HDPE (polyethylene)
Mesh size = 100mm or 120mm knotted
Colour = White
Reinforced (sewn in) border rope net edges for enhance strength & best fit
Rot & weather proof
UV treated for long life protection against sunlight
MISCELLANEOUS:
Sold as a single net or pair
Net clips & accessories are not included - these can be purchased by clicking here
PLEASE NOTE: This product is a net only, goal posts sold separately
Want to chat?
Contact us here and we'll get back to you as soon as possible.
Super fast shipping
Express shipping available
Questions & answers
Ask fellow customers what they think!
Hide Q&As
Questions & Answers
No one has asked a question yet!