FORZA Gaelic (GAA) & Hurling Target Sheet
FORZA Gaelic (GAA) & Hurling Target Sheet
Professional GAA & Hurling Target Sheets – Ideal For Shooting Practice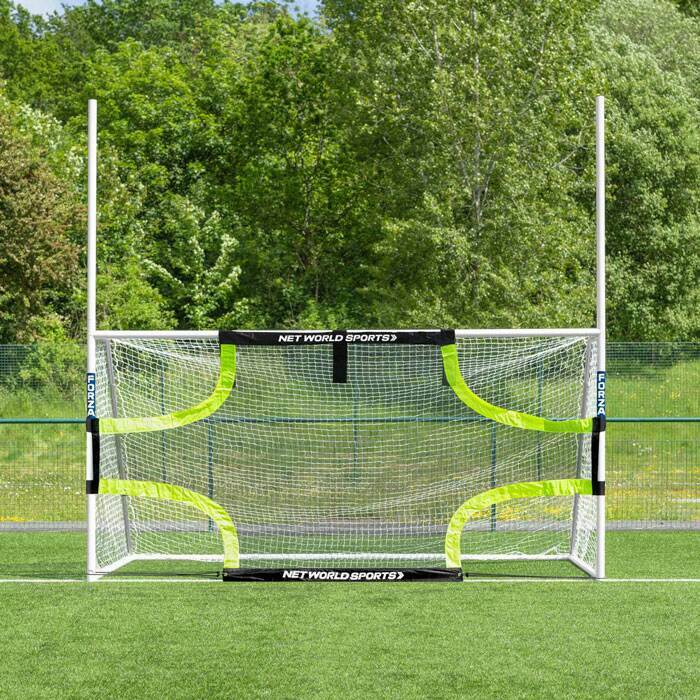 4x Target Zones
Each of the goal sheets features 4x target areas in the top & bottom corners. Ideal for developing shooting & accuracy skills to improve players performance in matches & competitions.
Strong Mesh
The target sheets are made using air mesh material which can withstand all impact from off target balls for lasting use. Designed to be used in all weather conditions – Perfect for year-round training.
Easy Set Up
To ease assembly, these target sheets feature strong hook & loop fastenings for quick goal attachment. Elastic bungee cords which are attached to the bottom of the sheet ensure shape retention.
Description
Professional Gaelic (GAA) & Hurling Target Sheet For Shooting Practice
An excellent option for Gaelic & hurling clubs, these FORZA Pro Target Sheets are designed for shooting drills & practice. The target sheet sections off the top & bottom corners of the goal to develop players shooting skills. Made using air mesh material which is designed for long-lasting use & will retain its shape for effective training sessions. The durable mesh netting can handle off-target shots without becoming damaged. These heavy-duty goal target sheets feature Fluro yellow nylon banding which is highly visible even in low light & highlights the target zones.
FORZA PRO Target Sheet – Suitable for garden practice & club training sessions
Excellent option for developing shooting accuracy in the four main scoring zones
Made using a premium air-mesh material which can be used in all weather conditions
Strong hook & loop fastening straps ensure a secure attachment to any goal frame
Fluro yellow banding highlights the targets for enhanced focus during training drills
The FORZA Goal Target Sheets have been specifically manufactured for use with our bestselling FORZA PVC, Steel42, Alu110 Gaelic & Hurling goals.
Specifications
FORZA Gaelic (GAA) & Hurling Target Sheet Specifications
Size Options:
10ft x 6ft | 3m x 1.8m
12ft x 6ft | 3.7m x 1.8m
21ft x 7ft | 6.4m x 2.1m
Materials:
Heavy duty air mesh net sheet with nylon banding
Highly visible fluro yellow banding clearly displays where the target zones are located
Miscellaneous:
Strong hook & loop straps (9.5cm W | 3.75in W) for secure attachment to any goal frame
Strong elastic bungee cords attach the bottom of the target sheet to the goal
Target sheet is not suitable for use during high winds
PLEASE NOTE: Target sheet ONLY. Goal posts are sold separately
Want to chat?
Contact us here and we'll get back to you as soon as possible.
Super fast shipping
Express shipping available
Questions & answers
Ask fellow customers what they think!
Hide Q&As
Questions & Answers
No one has asked a question yet!