FORZA 1.8m Spring Loaded Slalom Training Poles [34mm]
FORZA 1.8m Spring Loaded Slalom Training Poles [34mm]

Improve Speed And Agility With These 1.8m Spring-Loaded Slalom Poles
Spring Loaded For Safety
Coiled springs allow these slalom poles to bend in any direction when struck, greatly reducing the risk of injury on the training ground. .
For Use On Grass Fields
Each pole is fitted with a long ground spike which allows you to easily position them on any grass pitch for the duration of your training session.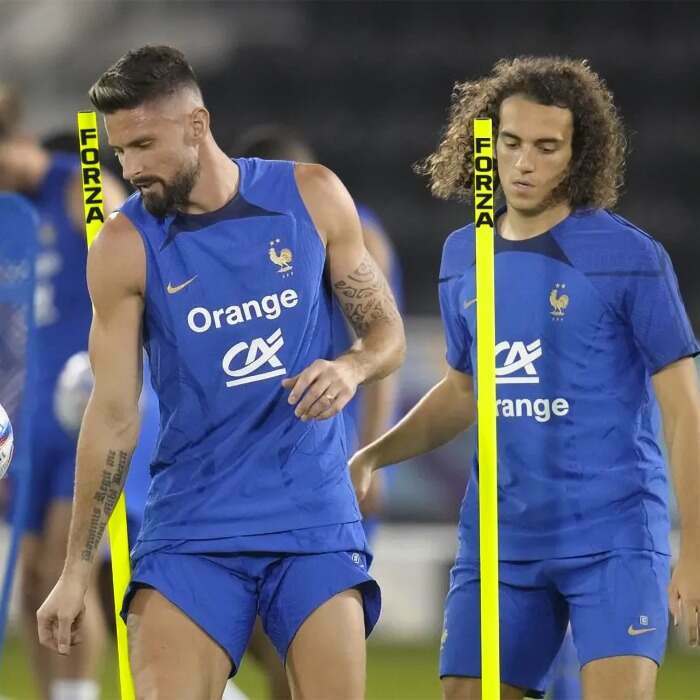 Shatterproof Plastic Poles
Manufactured from 34mm thick shatterproof plastic these poles are more than capable of absorbing the force of an athlete running at full tilt.
Description
Bring a new dimension to your training with these FORZA Slalom Poles
No matter what the sport, what the rules, whether it's a pitch, a court or a pool, to be the very best, you must train like the very best. With these 1.8m FORZA Spring Loaded slalom poles you can bring a whole new dynamic to your training and get a leg up on your competition. These slalom poles have been specifically designed to target your footwork, speed and overall coordination. If being quick and agile is your goal, then these FORZA spring loaded slalom poles are the perfect training equipment for you!
Whether you're a tricky winger looking to enhance your dribbling skills, a pacey rugby player aiming to avoid tackles by huge defenders or a basketball MVP looking to turn the opposition centre inside out, these FORZA slalom poles will be sure to help you reach your goals. Manufactured using 34mm (diameter) shatterproof plastic, each pole incorporates a professional-style spring back feature so if you clip one of these they'll fire straight back into position ready to go again. These eye-catching, fluorescent yellow slalom poles offer a whole new challenge to your regular slalom poles.
To add an extra element of difficulty and realism to goalkeeper training drills, these high quality slalom poles can be used to mimic the impact of deflected shots. Their spring-back feature is perfect for creating unpredictable shot trajectories which will have your goalkeepers reflexes up to professional standards in no time.
To ensure that you superstar athletes receive full value from the spring back feature, each FORZA slalom pole comes with a stainless-steel spike on the end making these poles ideal for grass or any other soft sport surfaces. If your training is mostly indoor or astroturf-based, we recommend that you slot them into our rubber slalom pole bases (sold separately) which we also stock at Net World Sports.
Check out our range of top quality, affordable training equipment here at Net World Sports. If speed and agility is still your number 1 training area, then why not check out the FORZA Speed Training Hurdles or the FORZA Speed & Agility Training Ladder. All our training products are designed to help aid your journey to the sporting elite!
Specifications
Dimensions
Pole height: 5.6ft | 172cm
34mm (1.5 inches) thick
Material
Shatterproof plastic
Stainless steel ground spikes
Miscellaneous
Sold in packs of 8 or 16
Spring-loaded bases minimise the risk of injury
Colour: Florescent yellow
Compatible with the Slalom Pole Rubber Base [2.3kg] (sold separately)
Don't just take our word for it
I'm not sure if it's the way the poles are designed or if it was due to shipping but it appears that there is some add discoloration at the bottom of the pole where it attaches to the spring.
Excellent product, perfect for agility training
Excellent service, and delvery
Want to chat?
Contact us here and we'll get back to you as soon as possible.
Super fast shipping
Express shipping available
Questions & answers
Ask fellow customers what they think!
Hide Q&As
Questions & Answers
No one has asked a question yet!
You may also like
FORZA Lunar Match Soccer Balls
AU$44.99
FORZA Resistance Speed Chute
AU$29.99
FORZA Pro Soccer Training Vests [5 - 15 Packs]
AU$24.99
FORZA Speed & Agility Training Ladder
AU$19.99