3.7m x 1.8m FORZA Alu60 Soccer Goal
3.7m x 1.8m FORZA Alu60 Soccer Goal

Aluminium Soccer Goals For Under 11's Mini-Soccer Matches And Training
Expertly Designed Goals
Built with the very best components, these junior goals boast stainless steel nuts and bolts, premium grade powder coated aluminium goalposts and heavy-duty precision welded corner joints.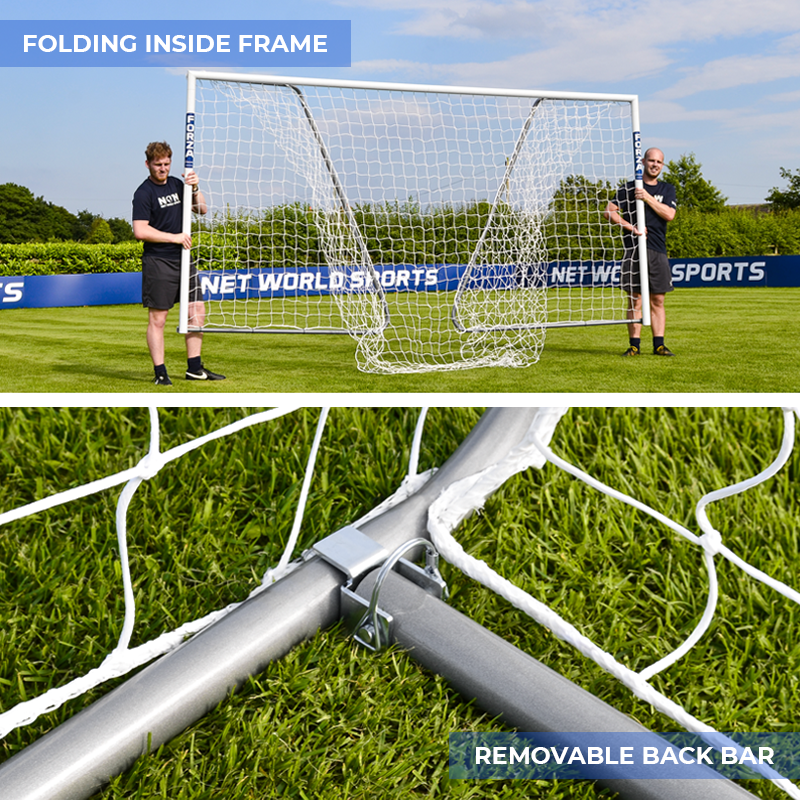 Folding Goals With Back Bar
Designed for storage and transportation, the goals feature galvanised side frames with a hinge mechanism which folds the goal in on itself. The hand-operated detachable back bar is crucial for stability.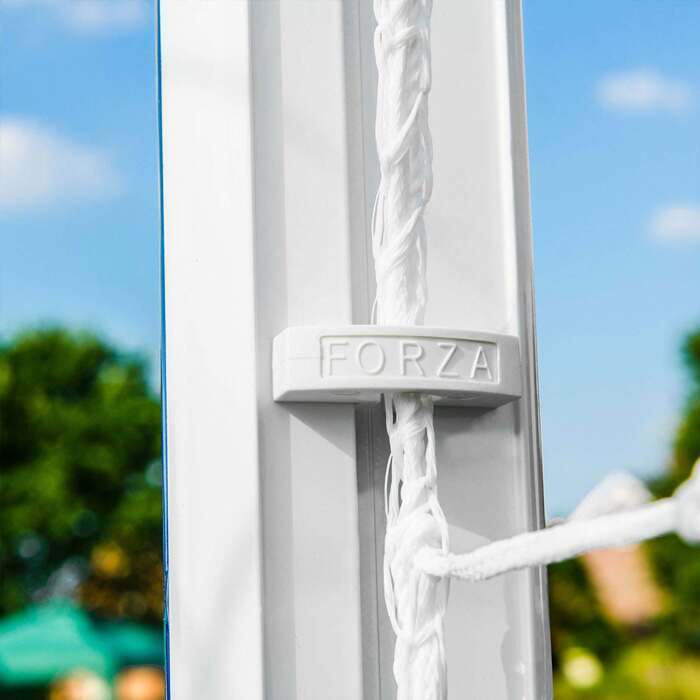 Best Soccer Goal Net
A 3mm braided twine goal net is included which has a knotted mesh size of 100mm. Perfectly fitted to the internal channel, the net is held tightly in position by the included nylon locking net clips.
Description
Regulation Sized Aluminium Soccer Goals For Junior Mini-Soccer Matches And Training Sessions
This premium quality metal soccer goal is sized in conjunction with regulations for junior mini-soccer. Mini-soccer is a scaled-down version of traditional soccer, designed to introduce the game to youngsters. Give your future soccer prodigies the same levels of quality as professional first teams with this aluminium freestanding soccer goal. Perfect for under 11's matches, the weatherproof soccer goals are the best junior soccer goal available.
3.7m x 1.8m official regulation size mini-soccer goal for 7-a-side junior matches and training sessions
Manufactured from premium quality 60mm diameter reinforced aluminium which is scratch-resistant and powder coated
Heavy duty yet light in weight soccer goal which can be transported manually by two people
Indoor or outdoor goal which features space-saving galvanised steel foldaway side frames for ease of storage
Weatherproof goal posts and net package with a UV treated 3mm thick HDPE braided twine goal net included
The highly durable soccer goals can be used intensely and consistently throughout the year without becoming damaged. Made from premium grade 60mm reinforced aluminium, the strong junior goals can be used for training and matches while remaining intact. Powder-coated in a classic white colouring, the weatherproof soccer goal can be left assembled outdoors without falling foul to the detrimental impact of rust and corrosion.
This under 11's mini-soccer goal features a heavy-duty design without sacrificing portability. The aluminium goal posts are exceptionally light in weight, allowing them to be carried fully assembled between playing pitches. Freestanding in design, the versatile soccer goal can be applied to any surface, including 3G, 4G, AstroTurf and indoor hard pitches without the need to be permanently fixed into the ground.
All necessary safety precautions have been undertaken in the construction of this juniors' soccer goal, having been independently tested to BS EN 8462 safety standards as well as conforming to FA Match standards. The professional youth soccer goals come with a 3mm HDPE braided soccer goal net included, as well as twist and lock style net clips which allow for quick and easy net attachment.
Specifications
3.7m x 1.8m FORZA Alu60 Soccer Goal Specifications
Dimensions:
FORZA Alu60 goal size (width/height): 3.7m x 1.8m (12ft x 6ft)
2.5mm thick aluminium
A 3.7m x 1.8m soccer goal the official mini soccer size and is recommended for use by youngsters aged 5-10 years
FORZA goal top runback: 90cm (35in, approximately 2ft 11in)
FORZA goal bottom depth: 175cm (69in, approximately 5ft 7in)
Materials
60mm reinforced aluminium goalposts which are very strong but light in weight
Aluminium is rust-proof and polyester powder coated optic white for high visibility
The powder coated is smooth and scratch-resistant
Heavy weight 30mm OD steel folding side frames
Quick release galvanised steel detachable back bars
The detachable back bars have quick release spring clips that are operated by hand (no tools required)
Fully welded corner joints provide superior strength and long-lasting reliability
Heavy-duty net constructed from 3mm OD braided HDPE twine with a 100mm knotted mesh size in white
Twist & lock-style safety net clips made from nylon securely attaches the nets neatly into the goalposts rear internal channel
Goal is weatherproof, low-maintenance and suitable for use on all surfaces, including grass, concrete, 3G, 4G, wooden and astroturf pitches
Both the goal nets and safety net clips are weatherproof and UV treated to protect against sunlight
Complete with high tensile stainless steel nuts, bolts, washers and zinc plated brackets
Miscellaneous
Weight – 15kg (33lbs)
Each individual goal will be delivered in three boxes – Box 1: 2300x110x65mm, Box 2: 1920x295x65mm and Box 3: 345x285x145mm
Goals will be delivered in flat pack form and will require assembly
It is advised that the following tools would be useful to help with assembly: mallet, wrenches, ratchet with sockets
1 year guarantee as standard with all FORZA soccer goals
Independently tested to BS EN 8462 Safety Standards [Watch The Video Here]
Goals conform to FA Match standards. Net World Sports is recognised by the FA as a suitable supplier of soccer goals
Anchors are sold separately, we recommend using our ground hoop anchors, sand bag weights or wall fix chain anchor kits
Target goal for youngsters up to 7 years old
Don't just take our word for it
Purchased a pair of these goals for both team training and matches, they have been able to withstand any shot that has been fired against this and have easily stood up to the challenge. The folding back bars are a must as these need storing after sessions and so with these goals having the foldaway side frames this makes these perfect for use.
Thank you so much for tracing this order back. Just to let you know that our residents & their children are really making use of your product. I have used many of this style Goal post in the past but have to say that your product is by far the best I have come across. Many thanks again for your help.
Would have been 5 easily had the goal not been damaged
Great sturdy product... Took 1hr to assemble and the target is perfect...my kids love it (8 and 7)
Want to chat?
Contact us here and we'll get back to you as soon as possible.
Super fast shipping
Express shipping available
Questions & answers
Ask fellow customers what they think!
Hide Q&As
Questions & Answers
2 questions | 2 answers
Does this net collapse for storage/travel?
Hello Janelle, Thank you for your question. This goal post does fold down from the sidebars on the goal posts, this allows for great portability and allows it to be easily stored away. You can view the goal in action and see exactly how it is folded via the following link:
https://www.youtube.com/watch?v=NOJkpE8grQQ
Many thanks, Tom
Is this the right size goal for a year 5 and year 6 football team.
Hello Josh, Thank you for your question. This goal post is able to be used up to the age of 11 years old so is perfect for the age range that will be using this goal. Many thanks, Tom
You may also like
3.7m x 1.2m FORZA Alu60 Soccer Goal
AU$824.99
5m x 1.2m FORZA Alu60 Soccer Goal
AU$999.99
Freestanding STOP THAT BALL™ - Ball Stop Net & Posts [3m High]
AU$229.99
3.7m x 1.8m FORZA Alu110 Freestanding Soccer Goal
AU$3,299.99
5m x 1.2m FORZA Alu110 Freestanding Soccer Goal
AU$3,849.99