FORZA Top Bins - Soccer Goal Corner Target
FORZA Top Bins - Soccer Goal Corner Target

Top Bins Soccer Goal Target – Improve Soccer Shooting Accuracy
Accuracy Training Equipment
The versatile soccer goal target has been designed to isolate the key scoring area of the goals and add professionalism and effectiveness to soccer strikers accuracy drills.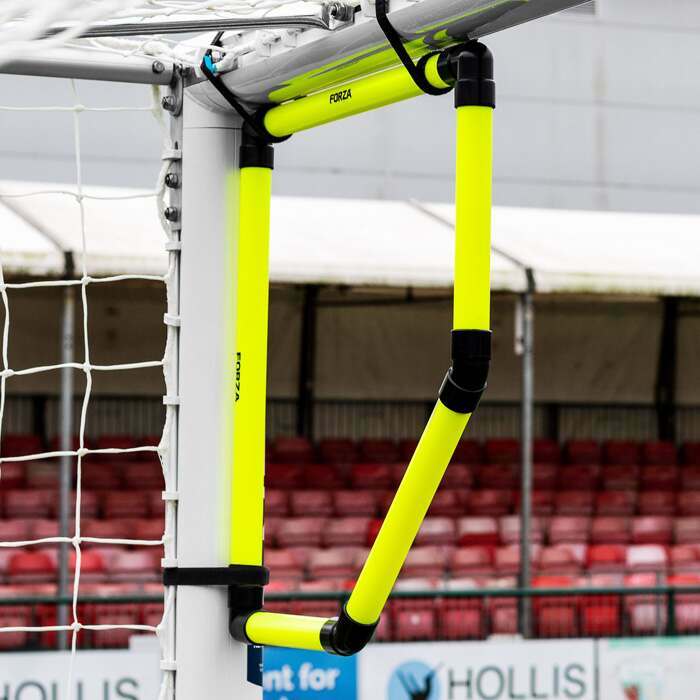 Strong PVC Soccer Targets
Designed using high quality 33mm impact resistant fluorescent yellow PVC, the top of the range soccer trainers are built to last and can withstand collisions with the ball.
Quick And Easy To Attach
The Top Bins target can be attached to any FORZA Socer Goal with the greatest of ease thanks to the 3 quick release fastening straps and pair of ground anchors that are included.
Description
UPGRADE YOUR SOCCER SHOOTING DRILLS WITH THE TOP BINS SOCCER GOAL CORNER TARGET
Learn how to shoot a soccer into the top corner with the innovative Top Bins soccer goal target. Designed to isolate the key shooting zone of the goal, this soccer training equipment improves the effectiveness of soccer strikers practice drills, helping to send the ball into the difficult-to-reach areas of the goal. Heavy-duty in design, the soccer goal shooting target has the durability to provide countless sessions and improve proficiency in front of goal for strikers at all standards of the game.
0.5m x 0.5m soccer goal target designed to improve shooting accuracy for players of all ability levels
Quality training equipment manufactured using fluorescent yellow 33mm impact resistant PVC poles
Features purpose designed high impact corner pieces which offer high durability and performance
Comes equipped with 3 quick release fastening straps for attachment and 2 ground pegs for bottom corner training
Top Bins soccer target is suitable for use in conjunction with all FORZA Soccer Goals
Available individually, as a pair or a pack of four corner targets
Optional lightweight carry bag holds two goal targets
The strong manufacturing of these soccer goal corner targets makes them perfect for both outdoor and indoor soccer training, easily attaching to goals which are suitable for any playing surface. Made from 33mm thick impact resistant PVC, the robust soccer target practice equipment can be used for extra training sessions in low-visibility periods such as night-time and winter due to the fluorescent yellow colouring. Pick out the corners of the goal at all times with the Top Bins soccer shooting accuracy trainer.
Suitable for use with the entirety of the FORZA soccer goal range, the 0.5m x 0.5m PVC soccer goal target training equipment is quick and easy to attach the goal frames. 3 quick release fastening straps are included for secure attachment when used for top corner soccer shooting drills, while a pair of ground peg anchors are also included allowing the versatile soccer finishing training equipment to be used on the bottom corner of goals.
Ideal for all dead ball situations and shooting drills, this high-quality piece of FORZA soccer training equipment is available individually, as a pair or as a pack of four. This allows you to set up the goal target in a single corner for freekicks or all four corners of your goal for penalties, helping your team to improve their overall performance from set pieces. You can also add a lightweight carry bag to the FORZA Top Bins, ensuring you can easily store and transport your soccer goal target in between training sessions.
Please Note – Each carry bag holds a maximum of 2 corner targets.
Specifications
FORZA Top Bins - Soccer Goal Corner Target Specifications
Dimensions
0.5m x 0.5m (1.8ft x 1.8ft)
Materials
3mm impact resistant fluorescent yellow PVC
Purpose designed high impact corner pieces
Miscellaneous
Designed for accuracy training drills
Comes with 3 fastening straps and 2 ground anchor pegs
Suitable for use with all FORZA Soccer Goals
Optional carry bag holds two soccer goal targets
Also suitable for a range of other sports including hockey, Gaelic football and hurling
Don't just take our word for it
I had been previously struggling with being able to get top corner shots during matches but with the help of these top bins, my overall technique and accuracy has really improved. I've used the top bins on various different goals and they're straightforward to attach so I can get straight to training. This as well as their bright colour means that they are now a staple piece of equipment for me.
Want to chat?
Contact us here and we'll get back to you as soon as possible.
Super fast shipping
Express shipping available
Questions & answers
Ask fellow customers what they think!
Hide Q&As
Questions & Answers
No one has asked a question yet!
You may also like
FORZA Soccer Goal Target Sheets
AU$69.99
Freestanding STOP THAT BALL™ - Ball Stop Net & Posts [3m High]
AU$229.99
FORZA Speed & Agility Training Ladder
AU$19.99
FORZA Pro Soccer Goal Target Sheets
AU$279.99