Vermont ProCourt Mini Soccer-Tennis Training Net
Vermont ProCourt Mini Soccer-Tennis Training Net
Enjoy Games Of Football Tennis or Foot-Volleyball at Home Or On The Go!
Convert Net Height In Seconds
Up the challenge in an instant with the simple removal/addition of a single post.
COMPLETE SET
The set comprises of posts, net, and carry bag for ultra-portability & unrivalled value for money.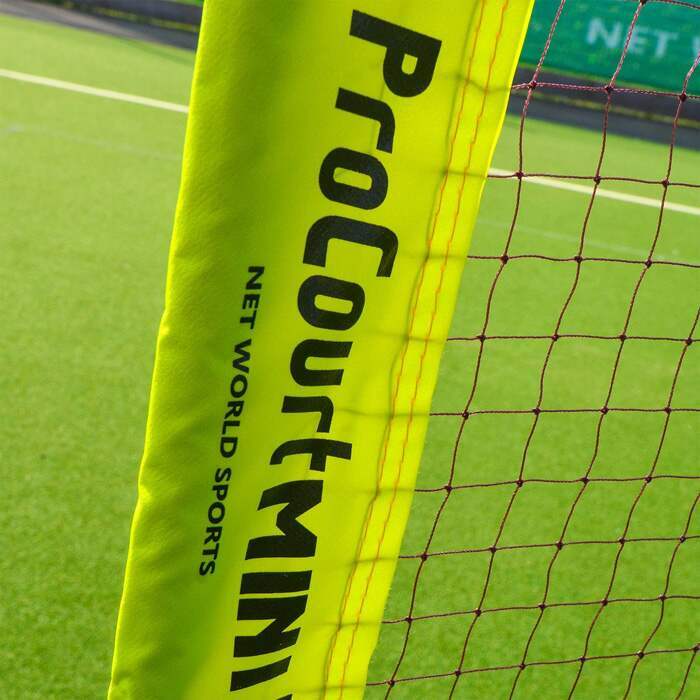 Super Light, Super Strong
Net frame & high-vis material break the rules. Tough as nails, yet remarkably lightweight.
Description
Soccer Tennis Net - A Fun Way To Train & Improve Your Game!
If you're looking for a enjoyable way to train the team and improve that crucial first touch, or whether you're looking for an easy way of keeping the little socceroos entertained in the backyard, the Soccer Tennis Net will more than suffice.
Mix it up in training sessions with the net and make it a challenge! It's perfect for improving several aspects of a player's aerial game such as heading, volleys, first touch control & skill moves.
A training method used by Premier League, A-League and International sides; it's a tried and tested piece of equipment ideal for players & teams of any skill level.
The net & post combo is easy to assemble, takedown, and store thanks to its super-lightweight material and handy carry bag which is able to store the entire contents of the package - easy to transport to and from training or on those fun family day's out.
An added bonus (and a more difficult challenge) is that the net height can be raised from 2.6ft to 5ft high by the simple addition of a few (included) posts for a session of Soccer volleyball.
Suitable for both indoor and outdoor use.
Specifications
Sizes:
Net Lengths Available – 10ft (3m), 20ft (6m) & 30ft (9m)
Net Height (Volley) – 5ft (155cm)
Net Height (Tennis) – 2.6ft (80cm)
Contents:
Net (Choice of Size)
Posts
Carry Bag
Material:
Net Frame - Specialist Metal Tubing
Net Banding - High-Vis Fabric
Don't just take our word for it
Kids love this product. Worth the value when kids are having fun. They use it for soccer tennis ,volley ball and anything else that they can figure out.Very well made,stromg and sturdy.
Want to chat?
Contact us here and we'll get back to you as soon as possible.
Super fast shipping
2-4 day shipping available
Questions & answers
Ask fellow customers what they think!
Hide Q&As
Questions & Answers
1 question | 1 answer
Q - will this fit in the boot of a car? Q - Set up time?
Answer this question >
Hi Steven,
Thank you very much for your inquiry. The set up of this would take approximately 10 minutes to set up and could fit in an average sized boot. If you have any further questions, please contact us at sales@
networldsports.com
.
Kind regards, Will
Vermont ProCourt Mini Soccer-Tennis Training Net
Thank you!
Your answer has been submitted.
We really appreciate you taking the time to help other customers, so please check your emails for a little thank you from us.
Vermont ProCourt Mini Soccer-Tennis Training Net
What would you like to know?
Thank you!
Your question has been submitted. You'll receive an email when an answer has been received.
Can't hang around? Contact us and we'll get back to you right away.
You may also like
Soccer Goal Target Sheets
AU$39.99
FORZA Speed & Agility Training Ladder
AU$14.99
FORZA Pro Soccer Training Vests [5 - 15 Packs]
AU$19.99
FORZA Speed Training Hurdles [6 Pack]
AU$49.99
FORZA 1.8m Spring Loaded Slalom Training Poles [34mm]
AU$94.99
Recently Viewed
Captains Armbands
AU$4.99
Slazenger Mini Orange Tennis Balls (Stage 2) (60 Bucket)
AU$149.99
Cricket Mat Trolley (2 Mat)
AU$1,349.99
Socketed Golf Cage & Net - Professional Range
AU$899.99
Baseball Netting Panels [Fully Edged]
AU$29.99