Spring Back Rugby Training Mannequins [3 Pack]
Spring Back Rugby Training Mannequins [3 Pack]
1.5m Tall Spring-back Rugby Mannequins For Defensive Drills
Light Yet Durable Mannequins
The spring back mannequins are manufactured from lightweight materials to offer portability, but the large mesh panels can absorb high impacts effortlessly.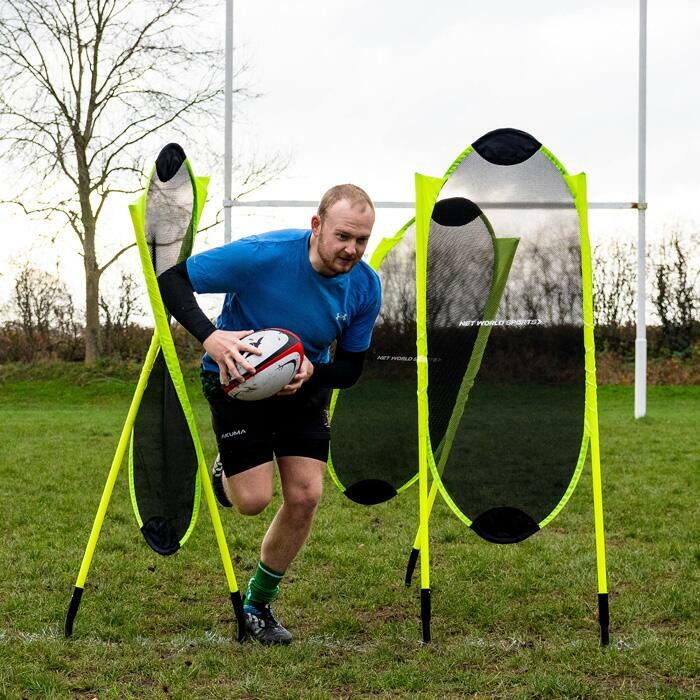 1.5m Tall Practice Mannequins
Each rugby mannequin stands at a height of 1.5m allowing you to practice side steps and defensive drills against a realistically sized opponent.
Instant Spring-back Mechanism
Mannequins are equipped with two spring loaded slalom poles each to ensure this piece of rugby training equipment will bounce back when struck.
Description
Pack Of Three Mesh Rugby Mannequins Supported By Spring-Loaded Slalom Poles
In just two minutes you can create several rugby training drills designed to improve player manoeuvrability, passing and speed of thought with this set of three spring-back rugby training mannequins. Manufactured from hard-wearing yet lightweight mesh, these foldable mannequins are equipped with a carry bag to offer the perfect storage and transport solution.
Set Of Three Spring-back Rugby Training Mannequins.
Each practice mannequin is 1.5m (5ft) tall and is supplied with two spring-loaded slalom poles.
Mannequins are manufactured from a lightweight ultra-durable mesh.
Slalom poles are manufactured from 25mm (1 inch) thick shatterproof plastic.
Takes approximately two minutes to set up.
Supplied with a carry bag for transportation and storage.
Standing at a height of 1.5m (5ft) tall the training mannequins will provide a realistic artificial opponent to help simulate matchday conditions. Each rugby mannequin is supplied with two spring-loaded slalom poles which are made from 25mm (1 inch) thick plastic and feature a steel spikes for ground placement. Coiled springs are also positioned at the bottom of each pole to allow the training mannequins to bend backwards during accidental collisions, in turn preventing any potential injuries.
If you train on hard surfaces such as AstroTurf or indoors during the winter these rugby training mannequins are compatible with the Slalom Pole Rubber Base [2.3kg], to offer the same spring-back element without needing to penetrate the ground.
Specifications
Dimensions
Material
Mannequins: Ultra-durable mesh
Slalom poles: 25mm (1 inch) thick shatterproof plastic
Miscellaneous
Set is comprised of three rugby mannequins and six spring-loaded slalom poles
Takes just two minutes to set up or put away
Slalom poles are manufactured with a coiled spring to bounce back after impact, with steel spikes for ground insertion
Sold in packs of three
Comes with a carry bag for easy storage and transportation
Don't just take our word for it
Want to chat?
Contact us here and we'll get back to you as soon as possible.
Super fast shipping
Express shipping available
Questions & answers
Ask fellow customers what they think!
Hide Q&As
Questions & Answers
No one has asked a question yet!
You may also like
FORZA Slalom Pole Rubber Base [2.3kg]
AU$29.99
FORZA Rugby Tackle Shield With Top Wedge [Pro Model]
AU$159.99
FORZA Rugby Curved Hit Shield [Pro Model]
AU$189.99