Striped/Two Colour - Soccer Goal Net [10 x Colour Options]
Striped/Two Colour - Soccer Goal Net [10 x Colour Options]
Create a soccer fortress with these striped two-coloured nets
Regulation full size
At 7.3m x 2.4m these nets are perfect for regulation full size 11-a-side goals. Take your matchday experience up a notch with these soccer nets!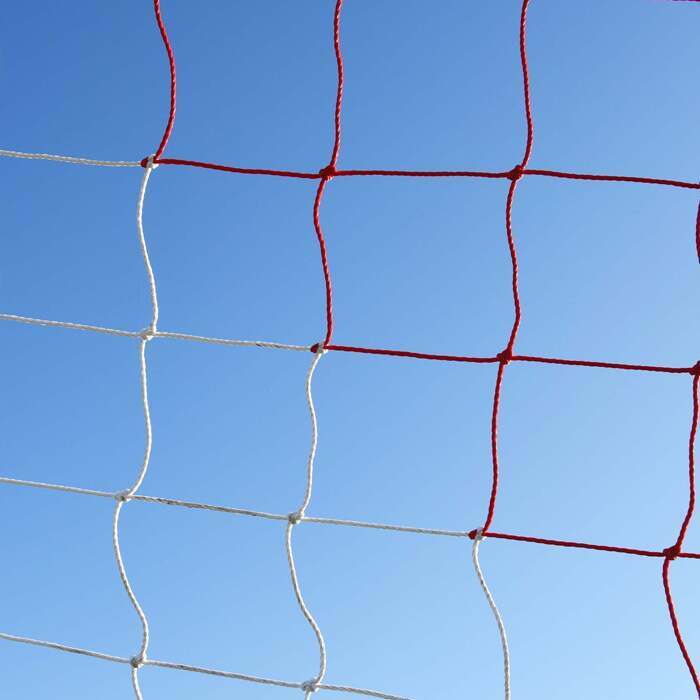 Heavy duty net
These extra heavy duty 3mm thick twine soccer nets are perfect for year-round soccer action. They will battle the conditions and stand strong against prolific goal scoring!
Plenty of choice
With 10 different colour combinations available, you'll not be found wanting when looking to match the net with your team colours.
Description
Complete the home team look with these striped soccer nets
It's no secret that in sport, home advantage can play a significant role in the outcome of the contest. Having the luxury of the home dressing room, doing battle in surroundings of great familiarity and having 90% of the support in your favour really can win some games before a ball has been kicked. Well now, you can add these striped two colour soccer nets to your matchday experience and really hammer home to the opposition the daunting task have at hand.
Designed for 7.3m x 2.4m regulation full size goals and available in 10 different colour combinations, these soccer nets will be sure to have your team covered. Having your team colours draped over the frame of the goal will only enhance your star players goal scoring experience. As they drop the shoulder, cut inside and beautifully bend one like Beckham right in to the top corner of the team coloured net, their burning passion for the club they play for will only grow stronger.
These nets won't just show off your team colours when the weather suits either. These extra heavy duty 3mm grade soccer nets are super durable against the elements. The beauty about these soccer nets is that you can leave them up all season, and no matter how many goals fly in or how bad the weather conditions get, they will never be damaged or have their quality compromised.
PLEASE NOTE: This net is sold singularly. If it is two nets you wish to purchase, then please adjust the quantity in the box provided.
Specifications
Dimensions
Striped net for full size 7.3m x 2.4m goals
Materials
Extra heavy duty 3mm soccer netting grade supplied
Miscellaneous
Colours available - Blue/Black, Orange/Black, Red/Black, Blue/Red, Black/White, Blue/White, Green/White, Purple/White, Red/White, Yellow/White, Blue/Yellow
Suitable for goalposts with top runback and net support brackets
Nets have a 3ft top depth and a 8ft 4in bottom runback
120mm mesh square with overlock edge
Quantity = 1 net (Pairs of nets also available)
Don't just take our word for it
Quality product great customer service
Great quality at a great price - love the option to be in club colours
Great net! no problems fit.
Great seller and products
Want to chat?
We're here on

live chat

right now!
Or via phone or email if you'd prefer...
Super fast shipping
2-4 day shipping available
Questions & answers
Ask fellow customers what they think!
Hide Q&As
Questions & Answers
1 question | 1 answer
What is the depth of your net, top and bottom?
Answer this question >
Hello, thank you very much for the enquiry. These nets have a 3ft top depth and a 8ft 4in bottom run-back.
Many thanks,
Grant
Striped/Two Colour - Soccer Goal Net [10 x Colour Options]
Thank you!
Your answer has been submitted.
We really appreciate you taking the time to help other customers, so please check your emails for a little thank you from us.
Striped/Two Colour - Soccer Goal Net [10 x Colour Options]
What would you like to know?
Thank you!
Your question has been submitted. You'll receive an email when an answer has been received.
Can't hang around? Contact us and we'll get back to you right away.
You may also like
Economy Grade - Soccer Goal Net [All Sizes]
AU$24.99
Custom Soccer Goal Nets [Any Colour]
AU$129.99
Stop That Ball™ - Ball Stop Net & Post System
AU$249.99
Heavy Duty - Soccer Goal Net [All Sizes]
AU$39.99
Ultra Heavy Duty - Soccer Goal Net [All Sizes]
AU$59.99
Recently Viewed
FORZA Pop-Up Target Goals [Pair]
AU$59.99
Sure Shot 770 Club Basketball System
AU$9,999.99
Stop That Ball™ - Socketed Ball Stop Net & Post System
AU$299.99
Artificial Grass Golf Walkway
AU$0.00
FORZA Soccer Free Kick Mannequins
AU$129.99