FORZA Basketball Court Modular Floor Tiles System [FIBA/NBA Standard]
FORZA Basketball Court Modular Floor Tiles System [FIBA/NBA Standard]

WEATHERPROOF BASKETBALL FLOORING SYSTEM FOR ALL AGES
5 YEAR WARRANTY
Ideal for driveways & homes, the robust outdoor basketball tiles can withstand the pressure of a car being driven over them or parked without damaging the tiles.
QUICK & EASY ASSEMBLY
Designed with quick & easy assembly in mind, the outdoor basketball tiles can easily snap together & are already pre-connected into 4 tiles to minimize set-up time by 75%.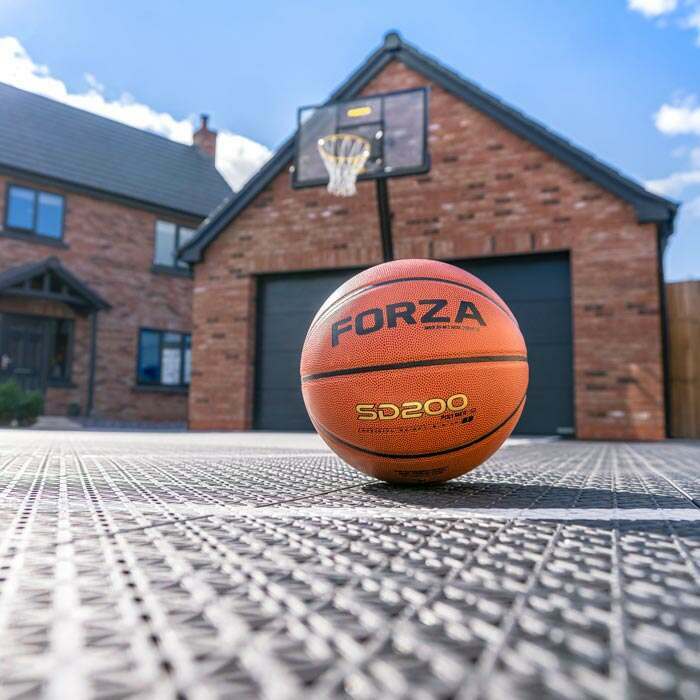 UNRIVALLED SURFACE
Manufactured from cushioned polypropylene, the basketball tiles provides consistent ball bounce & ideal protection whilst being durable enough to withstand a maximum weight of 1500kg (1.65ton).
Description
OUTDOOR BASKETBALL TILES – CONFORMS TO FIBA PERFORMANCE STANDARDS
The 1ft x 1ft (30cm x 30cm) basketball tiles are conformed to FIBA performance standards which ensures a high-quality of tiling. The basketball court tiles are manufactured from specifically modified polypropylene with 50 elastic cushions per tile. Which provides an unrivalled ball bounce performance & is robust enough to absorb jumping impact to protect joints. Designed to withstand temperatures without cracking, the outdoor basketball tiles feature holes to combat heavy rain due to the drain holes. The basketball floor tiles are available in black, grey and many customizable colors, which are uniquely packaged with pre-painted court lines. Thanks to the removable gaps & anchor bolting system, the outdoor basketball tiles can simply snap together for a permanent laying surface.
What's In Stock For Fast Delivery:
Mini Court = 5m x 7.8m, 6.2m x 7.8m or 9.3m x 7.8m
Half Court = 9.3m x 7.8m or 14.2m x 9.3m
Full Court = 14.2m x 24.4m
Replacement/spare black and grey court tiles available from stock
FOR CUSTOM ORDERS:
Sold per square ft (for example 4.8m x 7.6m court = 400 square ft)
Basketball markings are included in price (multisport lines can be added for additional cost)
Price includes 1 logo printed in white if required (more/color logos incurs extra cost)
Once ordered please email [email protected] with your order number, chosen court size (length x width), notated color scheme and logo
Email will then be sent to you with mock-up design
Please allow 4–6 week delivery for custom courts, logos & colors, once mock-up design is approved
Please Note: Only a minimum order of 200 tiles can be for the custom court option
Specifications
FORZA BASKETBALL COURT MODULAR FLOOR TILES SYSTEM SPECIFICATIONS
DIMENSIONS:
Each tile: 1ft x 1ft | 30cm x 30cm
Tile thickness: 15mm | 0.6in
Mini Court = 17.4ft x 26.4ft or 21.4ft x 26.4ft | 5.3m x 8m or 6.5m x 8m
Half Court = 30.5ft x 26.4ft or 46.3ft x 30.4ft | 9.3m x 8m or 14.1m x 9.3m
Full Court = 46.3ft x 80.8ft | 14.1m x 24.6m
MATERIALS:
Tile construction: Polypropylene
Each tile contains 50 elastic cushions
MISCELLANEOUS:
Layout guide included
100% recycle, nontoxic, odourless, water-proof tiles
Tile can handle temperatures of -50 to +70 degrees
Tiles must be placed over a hard flat surface to correctly work
Life span of tiles is 10-15 years
Warranty of tiles is 5 years (excludes hand painted line/logo markings)
Custom made court tile colours available = Sky Blue, Dark Blue, Black, Grey, Purple, Forest Green, Apple Green, Dark Green, Gold, Yellow, Orange, Cherry Red or Dark Red
Pricing already includes 1 logo printed in white if required
Multi-sport lines can be added for extra cost
More colours & logos will have extra cost
Logos can be added to tiles for additional cost
Court lines are supplied pre painted onto tiles
Lead time on custom option: 6-8 weeks
Tested & certified: CE/ROHS/SGS
Conforms to FIBA performance standards
PLEASE NOTE: For custom option, minimum order qty is 200 units
Want to chat?
Contact us here and we'll get back to you as soon as possible.
Super fast shipping
Express shipping available
Questions & answers
Ask fellow customers what they think!
Hide Q&As
Questions & Answers
No one has asked a question yet!