FORZA Euro Team Shelter [Heavy Duty/Quick Assembly]
FORZA Euro Team Shelter [Heavy Duty/Quick Assembly]

Aluminium Sports Team Shelters With Injection Moulded Anti-Fade Seats
Heavy-Duty Shelter
This top of the range sports team shelter has been manufactured with a 50mm x 50mm aluminium profile with 80mm x 80mm aluminium support struts for enhanced levels of stability.
Easy To Assemble
Featuring a panoramic view and a modern angular design, the aluminium team shelter boasts a modular design which makes the construction process a hassle-free and simple pursuit.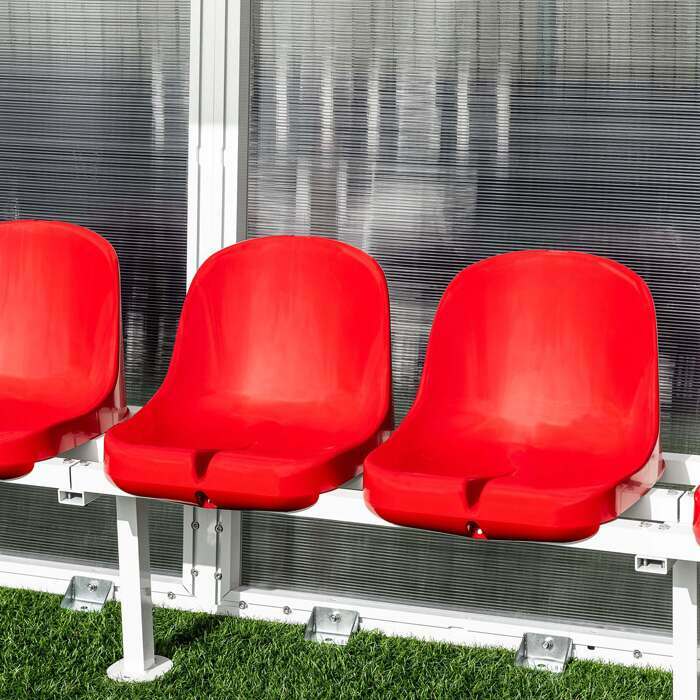 Sports Seats Included
Each aluminium dugout comes equipped with blue, yellow, green, orange, white, black or red seats and is available in 8 lengths with varying injection moulded anti fade seat quantities.
Description
Premium Aluminium Team Shelter With Moulded Anti-Fade Seats
Add a professional dugout to your ground with the aluminium sports team shelter. Manufactured with a heavy-duty 50mm x 50mm aluminium profile, the luxury moulded seat team shelter provides exceptional resistance to impact, retaining its pristine shape and condition throughout multiple seasons worth of use. For enhanced piece of mind, the football shelter also boasts 80mm x 80mm aluminium support struts, resulting in greater stability and durability.
1m, 2m, 3m, 4m, 5m, 6m, 7m and 8m long team shelters with variable quantities of black, red or blue injection moulded anti fade seats
50mm x 50mm aluminium profile construction with 80mm x 80mm aluminium support struts
Features a highly efficient design which offers maximum shelter while creating minimum footprint
Modern angular football team shelter with a panoramic view of the surrounding area
Easy to assemble due to its modular design as well as having easy-install anchoring plates
Offering an exceptionally quick and easy construction process, the modular design of the aluminium sports team dugout takes the strain out of assembly, ensuring that your ground equipment will be set up in a secure and timely manner. Designed to provide optimum shelter while maintaining an eco-friendly structure, the team shelter has been built for maximum efficiency while creating a minimal footprint. High in quality and performance, this metal team shelter is a professional investment for any club.
The modern angular design of this team dugout is a premium touch which enhances the overall quality of the top of the range aluminium shelter. Featuring easy install anchoring plates with a panoramic view of the surroundings, the cutting-edge aluminium team shelter dugout also includes a varying quantity of injection moulded anti fade sports team seats, available in blue, black or red, which guarantee pitch-side comfort to your players and coaching staff. For greater durability, the Perspex used on this sports dugout team shelter is held firmly in position by a 50mm channel, protecting the structure from damaging impacts.
PLEASE NOTE - These team shelters are the easiest to install in their class due to the simple modular bolt together design. The PETG and polycarbonate panels are already pre-fitted to the modules to reduce installation time and to ensure a high quality finish.
This aluminium team shelter is suitable for use for a variety of sports, including football, rugby, American football, lacrosse, Gaelic football and hurling.
Net World Sports stock a wide variety of matchday and ground equipment, including crowd barriers, line marking machine, ball stop nets and more.
WHEELCHAIR ACCESS: Shelters can be adapted for wheelchair users on request, please contact our Sales Team for more information.
Specifications
Dimensions
1m Aluminium Team Shelter – 1m x 2.05m x 1.7m (L x H x D) with 2 seats
2m Aluminium Team Shelter – 2m x 2.05m x 1.7m (L x H x D) with 4 seats
3m Aluminium Team Shelter – 3m x 2.05m x 1.7m (L x H x D) with 6 seats
4m Aluminium Team Shelter – 4m x 2.05m x 1.7m (L x H x D) with 8 seats
5m Aluminium Team Shelter – 5m x 2.05m x 1.7m (L x H x D) with 10 seats
6m Aluminium Team Shelter – 6m x 2.05m x 1.7m (L x H x D) with 12 seats
7m Aluminium Team Shelter – 7m x 2.05m x 1.7m (L x H x D) with 14 seats
8m Aluminium Team Shelter – 8m x 2.05m x 1.7m (L x H x D) with 16 seats
Seat Materials
UV stabilised injection moulded HDPP bucket seats
Seats feature a water drainage channel and are vandal resistant
Design
Bottom depth of each shelter = 1m
Each seat measures 17in deep x 18in wide x 15in high (44cm x 45cm x 37cm)
Modular design for easy construction
Efficient design allows for maximum shelter with minimum footprint
Modern angular design
Miscellaneous
Shelter comes complete with anchoring plates (anchors not included)
We highly recommend bolting the shelter frame down to a concrete base to prevent wind damage
Perspex held in place by 50mm channel for extra durability
Suitable for a wide range of sports
The product will be delivered flat packed and will require assembly prior to use
CAN BE TAILORED TO WHEELCHAIR USERS - contact our sales team for more information
Don't just take our word for it
The first thing that drawn me to these shelters were the design, different from most others I seen but being an engineer by trade I wanted the best structural design to ensure we had long lasting shelters. I couldn't quite believe how easy they were to assemble, we have put many others up over the years at the club and all have taken a full days work. The Forza shelters took me an hour to assemble and the pre fitted Perspex are a brilliant idea which saved hours on assembly. This is my second purchase from Net World Sports now and we will continue to buy all our equipment from them in the future, I cannot praise the service/products highly enough.
Want to chat?
Contact us here and we'll get back to you as soon as possible.
Super fast shipping
Express shipping available
Questions & answers
Ask fellow customers what they think!
Hide Q&As
Questions & Answers
No one has asked a question yet!